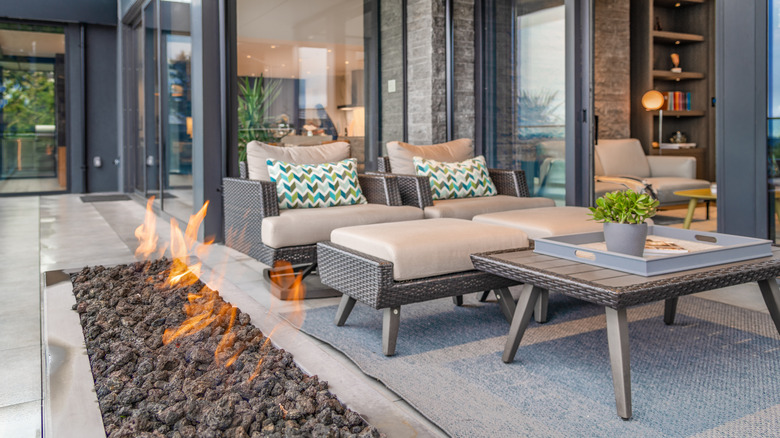 Sheila Say/Shutterstock
Planning to host the next get-together? From brunch and garden gatherings to celebrations, cocktail parties, and game nights, there are several types of spaces to utilize for entertaining within your home. Whether your home and/or patio space is big or small, you might consider the layout first when hosting an event. Start by establishing a distinguished location and design for your intended entertainment area. This could be a breakfast nook, a paradise pool party, or a game/movie night set within a cozy outdoor patio or basement lounge. However you define it, keep the plan orderly and balanced. You can also rearrange your existing furniture in a fresh way, like benches, couches, chairs, and dining and/or accent tables (per Star Furniture), as this will set the scene for optimum mingling.
So, how can you achieve the ultimate entertainment space? Whether it's a chill weekend with friends or a specialized event, make sure to designate your zones. This might include a bar or tiki area, a dinner table, a fire pit, lawn recreation, a play area, or a garden space. From there, you might focus on various details like lighting, points of interest, and displaying a clean and tidy space. Indoors or out, there are various ways to present a desirable place for you and your guests to eat, drink, relax, or play. Keep reading to discover some of the best techniques in designing an ideal space for your next hosted gathering.
1. Establish an open concept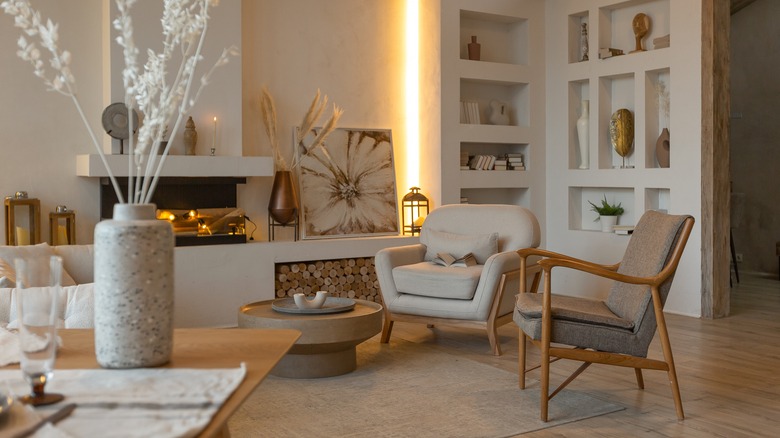 Pinkystock/Shutterstock
Designate areas of interest with plenty of room for guests to transition. Here pictured is an inviting, modern living room with a couch and armchairs centered around a round table with a wood-burning fireplace. The dining room table is set within its own space in the foreground. Each area is distinctive in its purpose and position.
2. Fascinating fire pit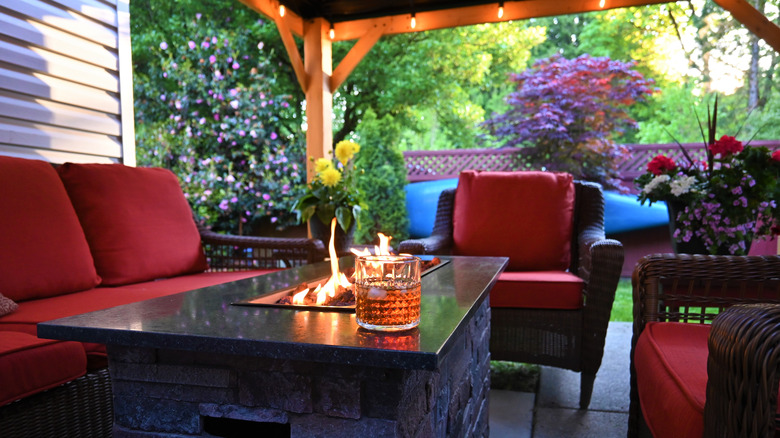 Stephenz/Shutterstock
The ultimate gathering space, an outdoor fire pit, is captivating and inspiring, as everyone can socialize around this enticing space all night. This image features a quaint yet tranquil setting with a stone and marble fire pit as the focal point upon a patio deck with wicker furniture, flowers and plants, and string lights.
3. Layered lighting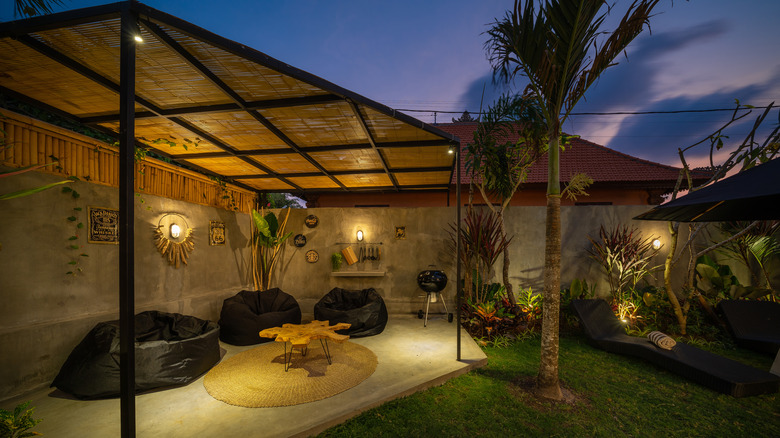 Sanatana/Shutterstock
A backyard patio is a place to turn the lights down low and the radiance up. This image features a covered outdoor space with a boho vibe through its global décor and tropical greenery. The low-lit wall sconces add a poignant glow within the serene space, as string lights or swimming pool lights could also work.
4. Create flow with glazed doors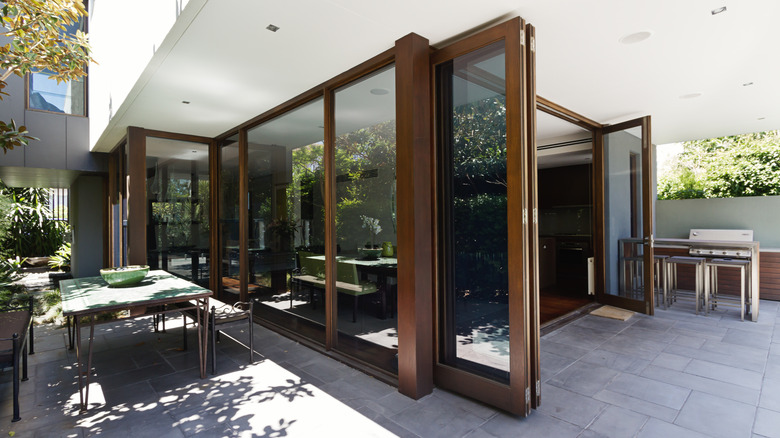 Jodiejohnson/Getty Images
Exercise good circulation from the inside out by installing glass door frames onto your patio, including French or bifold, as this will significantly add movement. This home features large, glazed windows that also fold back to the patio and grill area. Having expansive windows will lure your guests into venturing into the backyard.
5. Incorporate a patio shelter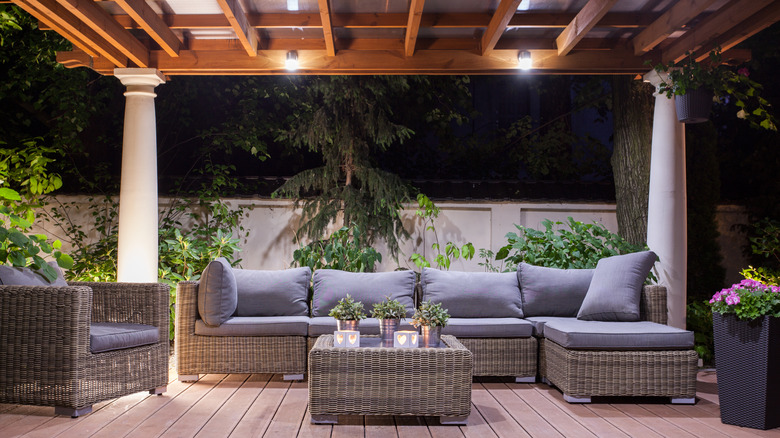 Katarzynabialasiewicz/Getty Images
Whether it's by the pool or near the house, utilizing a covered canopy, gazebo, or pergola will invite your guests to sit and relax for a while. Here pictured is a wood-beamed pergola with white Tuscan-like columns on each corner, sheltering blue rattan patio furniture. Soft lighting beams down from above for ambiance.
6. Multiple seating options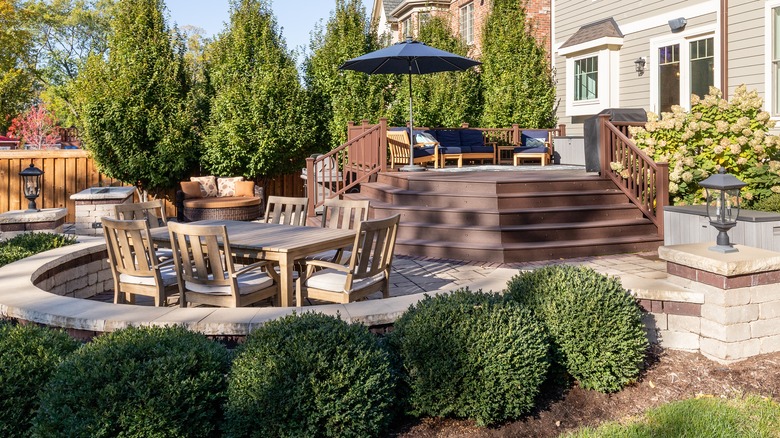 Hendrickson Photography/Shutterstock
Incorporate various types of seating options for your guests, especially when entertaining outside. This back patio garden features cushioned furniture with an umbrella within a deck that leads down to a dining table for six, along with an alluring daybed lounge chair situated near the grill area.
7. Isolated areas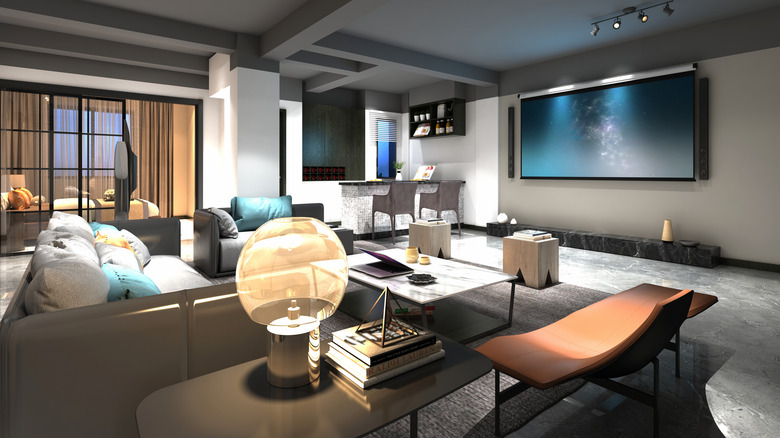 Explora_2005/Getty Images
If you're planning to watch a movie, designate a room that has dimmable lighting. Posh yet cozy, this exclusive space is centered on the vast television mounted on the wall with furniture aimed and ready for viewing. There's also a small bar/snack area located off to the side for easy access during the game or show.
8. Breakfast nook brunch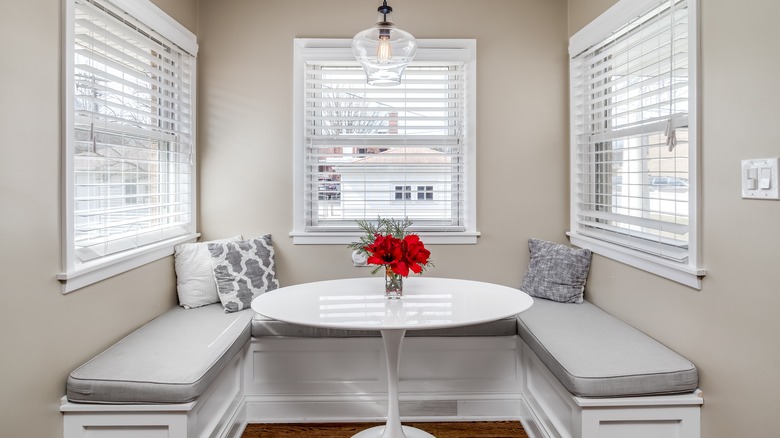 Hendrickson Photography/Shutterstock
A breakfast nook is a perfect place to host brunch for a small affair. Make it warm and inviting with built-in bench seating and pillows like the U-shaped nook featured above. You might also add separate chairs for the open side of the table. Dress it up or down with added curtains, flowers, throws, and a tablecloth.
9. A minimal design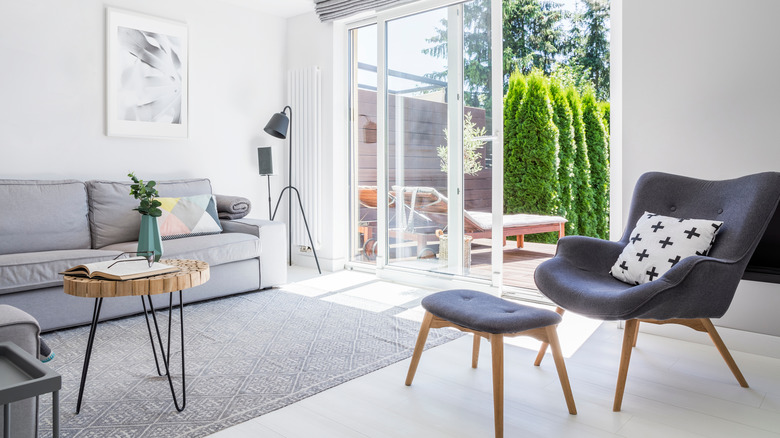 Ground Picture/Shutterstock
Keep the plan simple with limited décor and furniture, particularly if you have a small home or apartment, as too much will feel cluttered. Maintaining a minimal setup will allow traffic to flow through your space easier, as seen in the image above, with the clear path to the sliding patio doors.
10. Accessible cocktail cart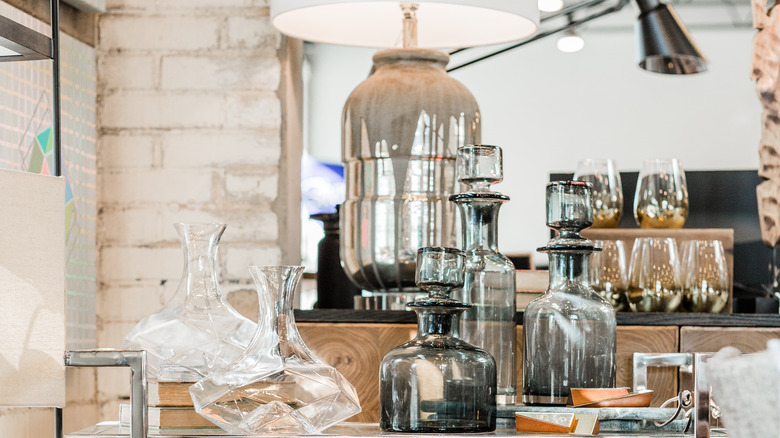 Karen Culp/Shutterstock
Whether you offer drinks in the dining room, living room, or pool patio, make sure your guests have access to various beverages. From coffee and tea to ice, cocktails, wine, or beer, this will keep visitors happy and mingling, especially if it's mobile. You can place various decanters, bottles, or glassware on it, as seen pictured above.
11. Clean and stocked bathroom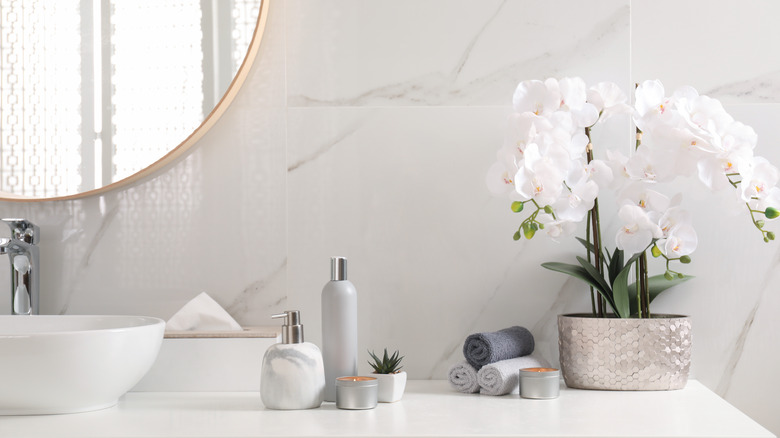 New Africa/Shutterstock
The main bathroom that your guests will use should be pristine, stocked, and ready. Main amenities might include towels, tissues, hand soap, and toilet paper, as pictured above. If you want to add more luxury, include extra toiletries like lotion, air fresheners, fragrances, teeth flossers, or even travel-size items they could take with them.
12. Utilize a coat closet or rack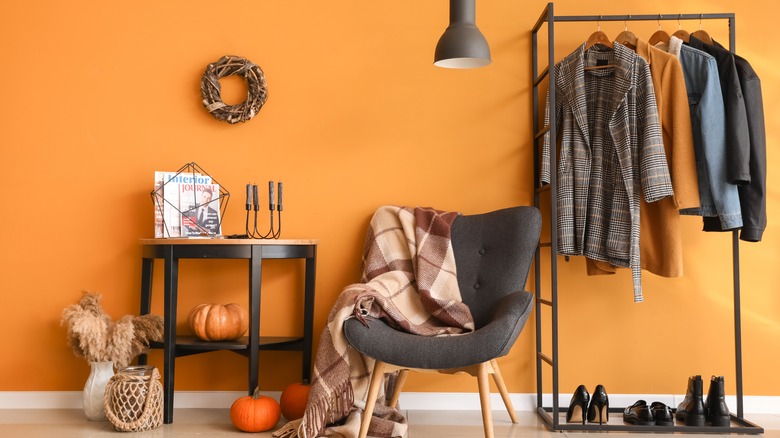 Pixel-Shot/Shutterstock
Instead of placing everyone's coats and jackets in a pile in the guest bedroom where items often go missing, you might hang them within an existing coat closet or implement a stand-alone rack or mudroom-style wall tree. Here pictured is a convenient rack that suits a foyer amidst the chilly fall season.
https://www.housedigest.com/1119259/tips-for-designing-the-perfect-entertainment-space-for-hosting/