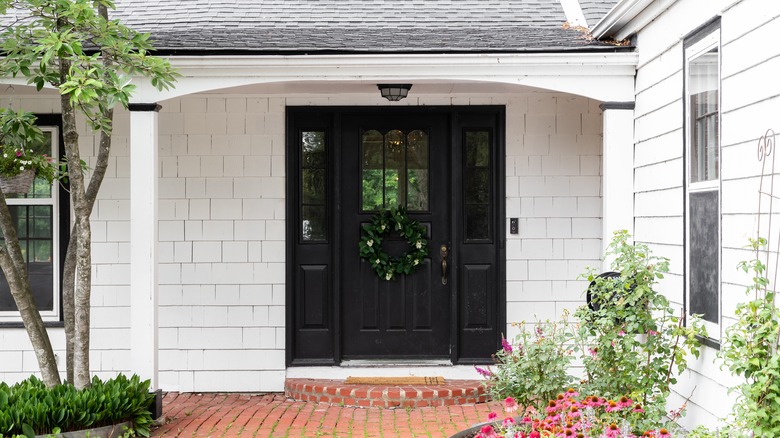 Hendrickson Photography/Shutterstock
If the first impression is anything to go by, then the front door of your house should be the best representation of what awaits inside (via KAM'S Designer Zone). The front door of your farmhouse is more than an entryway for your guests — it is a design statement that has a lot to say about your personality and creativity. Other than that, when you pair the appeal of your front door with proper landscaping, you can quickly elevate the aesthetics of your home significantly. When it comes to sprucing up the front door of your farmhouse, it is safe to say that there are no rules cast in stone. 
Be ready to test out new colors, hardware, and also different door designs all in a bid to find the right match for your home. Installing modern doors on older farmhouse designs is one way of merging the old and the new. However, with the plenty of options available on the internet today, it is possible to get overwhelmed by choice. Having said that, here are some of the popular farmhouse front door ideas that you can take inspiration from.
1. Adorn with flowers
What better way to improve the curb appeal of your farmyard front door other than having a few colorful flowers by the doorstep? Go for low-growing flowering plants that bloom in different colors, as demonstrated in the example above.
2. Go rustic
Nothing complements a wooden farmhouse or a cabin more than having a rustic door to match the overall theme. The earthy wooden tone on this front door is inviting and feels right in place. Notice how the front door has a lighter shade compared to the rest of the house.
3. Conventional double door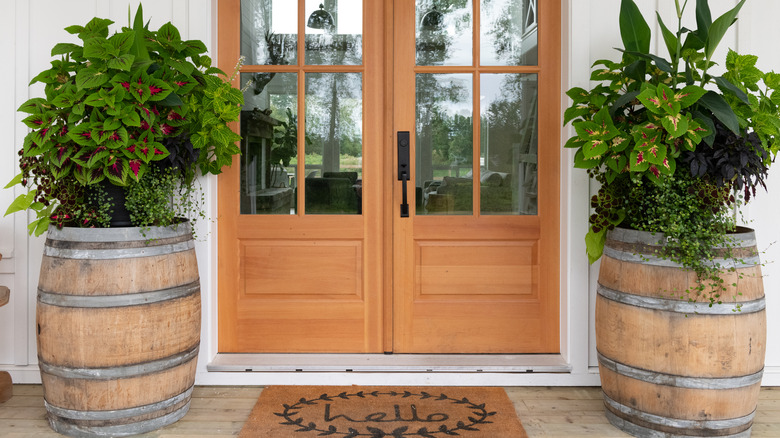 TheCreativeBrigade/Shutterstock
The traditional double-door front door never goes out of style. In fact, one would argue that it is one of the unique identifiers of traditional farmyard aesthetics. The brown earthy tones and the beautiful flowers by the door make this front door look homey and welcoming.
4. Natural earthy texture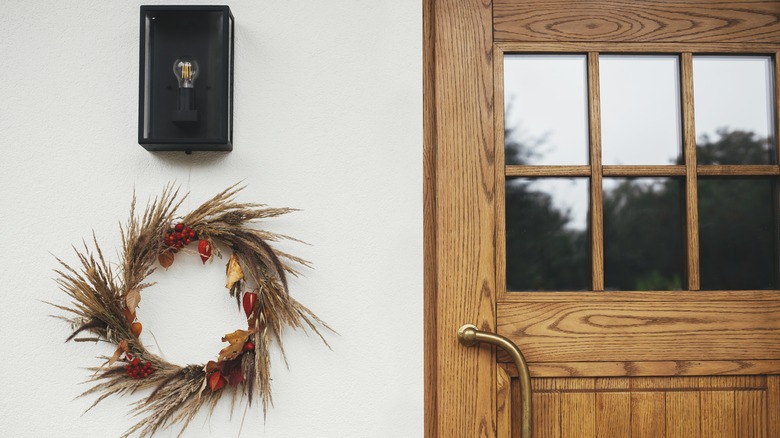 Bogdan Sonjachnyj/Shutterstock
There is something about the natural earthy wooden tone that is so calming even for front doors. Your modern farmhouse will definitely look good with the appeal of natural wood texture and extra front door decor like a wreath that welcomes your guests.
5. Bold maroon door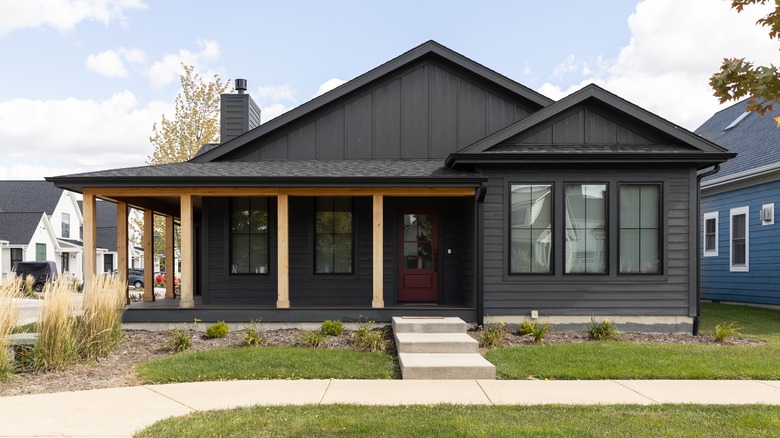 Hendrickson Photography/Shutterstock
If you go for dull paint for the exterior of your farmhouse, be sure to pick a front door color that will stand out. A bold color like maroon will not only make your front door visible from afar but also attract the necessary attention to an otherwise dull wall exterior.
6. Classic white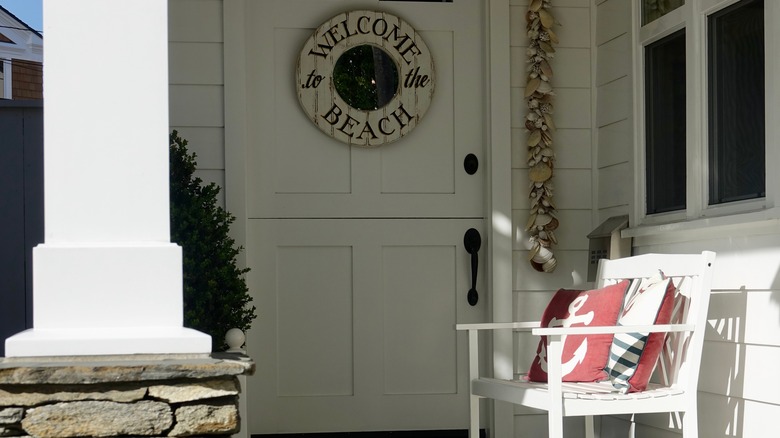 HY-DP/Shutterstock
You can never go wrong with a classic white front door to match an equally brilliant white exterior color. Sticking to the traditional white colors allows other design details of your house to stand out, like the aesthetics of the facade on this farmhouse.
7. Glass sliding door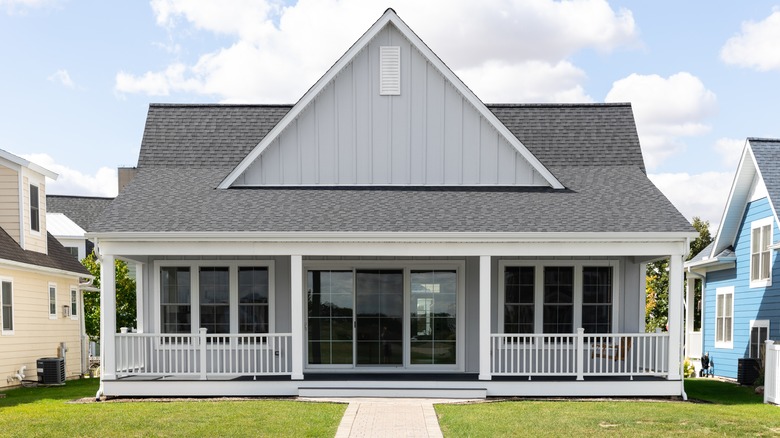 Hendrickson Photography/Shutterstock
Are you looking to add a modern touch to your farmhouse? Consider installing a sleek and modern sliding door. Other than the polished look, a large glass sliding door will also allow plenty of light indoors. Take inspiration from the example above.
8. Black French doors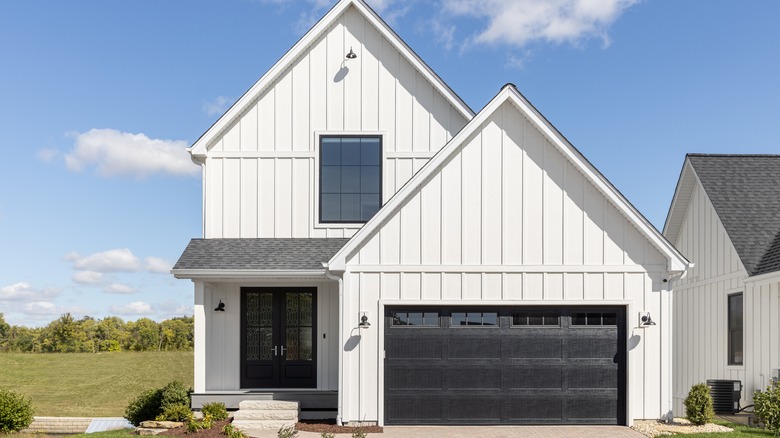 Hendrickson Photography/Shutterstock
French doors are a classic, no doubt. However, installing a black french door against a white siding exterior is a sound design idea. The beauty of French doors is that they not only make a statement for your facade but also allow you a little sneak peek into the house's interior.
9. Turquoise front door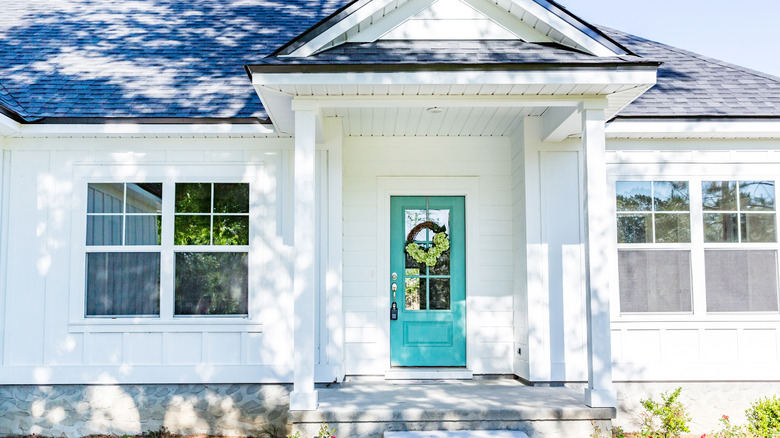 Ursula Page/Shutterstock
Turquoise is not a standard color for most front doors. However, it makes a good statement especially if your intention is to bring more attention to your front door. It is quite evident how the front door in this particular example makes the facade of this house more appealing.
10. Unpainted beams and front door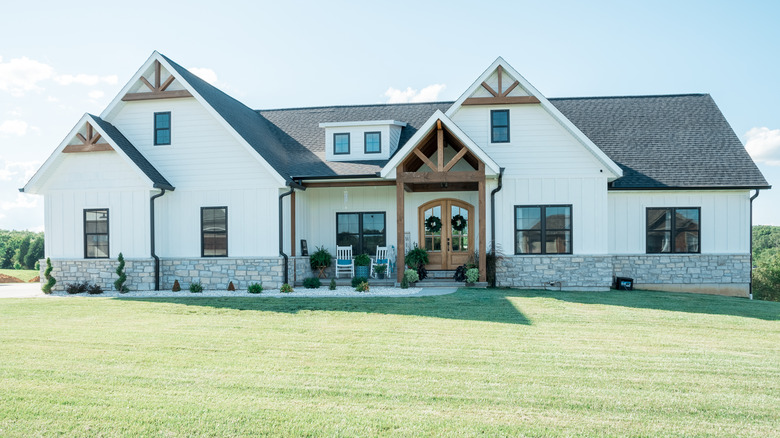 Carla Bullock/Shutterstock
A traditional farmhouse design has to feature a few beams on the front door. In this particular example, the beams and the front door are deliberately left unpainted to achieve a natural and cohesive appeal for the house exterior.
11. Mellow yellow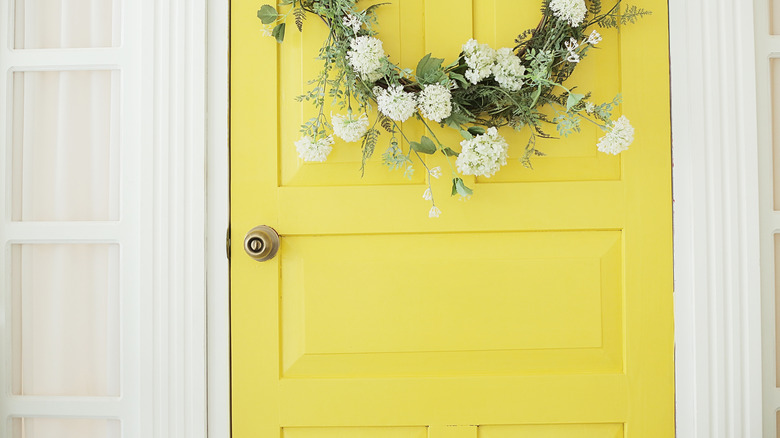 shyshechka/Shutterstock
Yellow is a happy color, so refresh the front door of your modern farmhouse with this brilliant hue for a more positive and welcoming aura. You can go a step further and place a flower wreath on the door for additional aesthetic appeal.
12. Green front door
While green might not be the boldest of colors, it will definitely draw attention to your front door, especially on a classic white exterior wall.
13. Go unconventional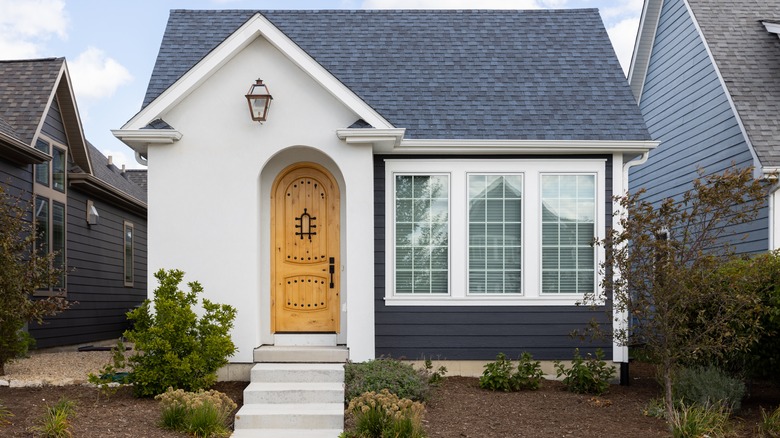 Hendrickson Photography/Shutterstock
Rectangular front doors are common for most farmhouses. Dare to stand out with this curved wooden door with decorative designs for the much-needed aesthetic appeal. The steel hardware on the front door gives this house an elegant medieval vibe.
14. Decorate with vines and climbers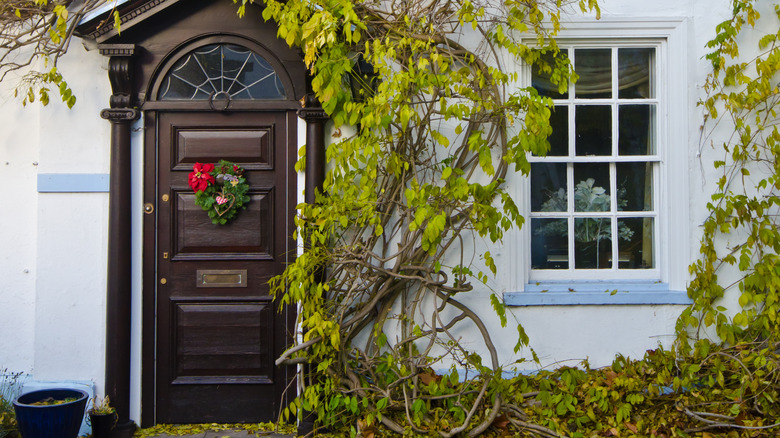 Konmac/Shutterstock
The front door of your modern farmhouse doesn't always have to be plain and simple. Consider planting vines that will grow around your front door for a pop of natural life.
15. Calming gray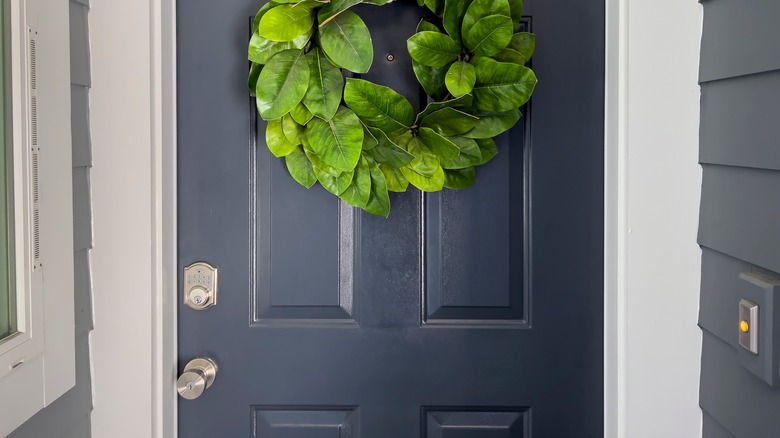 Colleen Michaels/Shutterstock
The relaxing charm of gray has made it a popular choice for indoor decorations. With some creativity and selective color choice, you can experience its appeal outdoors as well, particularly at your front door.
https://www.housedigest.com/1116360/inviting-farmhouse-front-door-ideas/