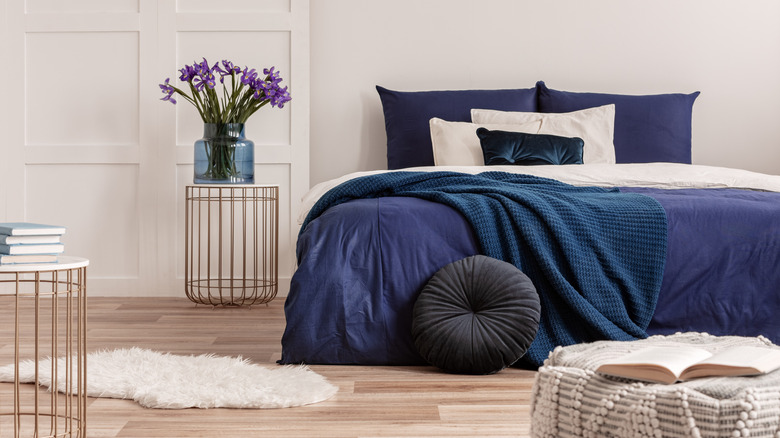 Ground Picture/Shutterstock
Decorating your home is a great way to reflect your personality and preferences, whether you add pictures or personal trinkets or reflect them through color schemes. Colors are a great way to convey certain moods and create your desired atmosphere, especially when intentionally chosen and displayed. Blue, for example, is a very orderly and calm, reliable color, according to Very Well Mind.
As such, blue is a great color for any room in your house. However, design-wise, blue can be a bit domineering, and it can be easy to go overboard without realizing it — especially when paired with other bold colors. That's why lots of people will choose to pair it with white, which helps both neutralize it and freshen it up. As Dshell Design explains, white and blue paired together is a classic, clean, and tranquil combination that creates a lovely, neutral but inviting atmosphere. Keep reading for inspiration for different white and blue color combinations in your own décor.
1. Pattern mixing
united photo studio/Shutterstock
Since you have a pretty basic color palette as your base, you have plenty of room to play around with pattern mixing. Pair a blue and white Turkish rug with a mod-style blue and white wallpaper, and add varying pops of blue with white decorative pieces.
2. Coastal bedroom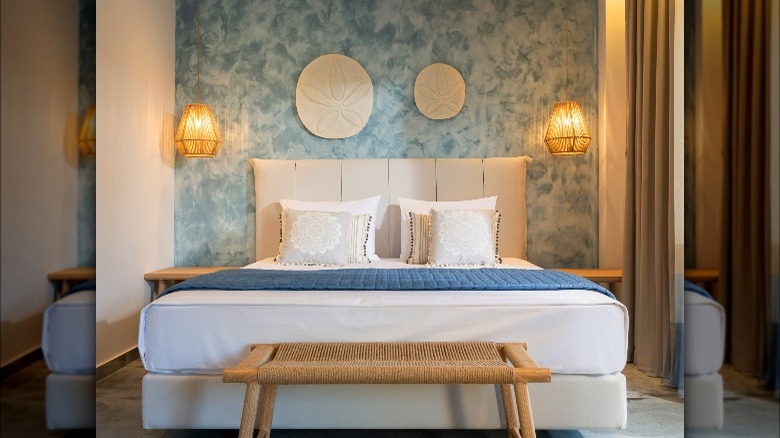 George Tsamakdas/Shutterstock
Blue and white is a classic color combination for coastal décor. Keep it simple and classic with lighter shades of blue paired with clean and crisp whites and a few wicker accents to bring in the beachy vibes. 
3. Classic dining spread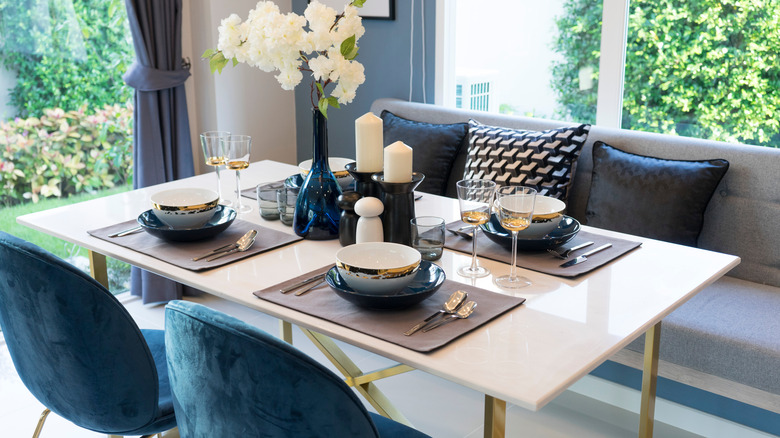 ben bryant/Shutterstock
Create a blue and white theme in your dining room, not just with your furniture but with your table settings, too. Look for blue candle holders with white candles, blue vases with white flowers, white bowls with blue chargers, etc. 
4. Moody blue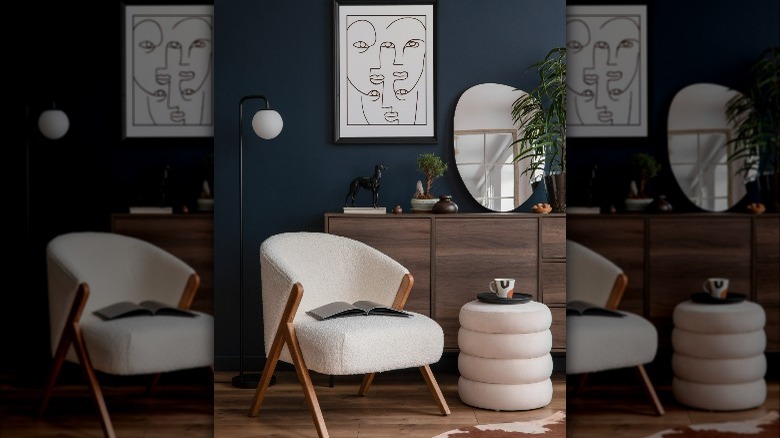 Followtheflow/Shutterstock
While blue can be a bright and cheerful color, darker shades can also be moody and demure. Pair a dark blue accent wall with softer white furniture and decorative pieces to help liven it up a bit.
5. Bright and clean bathroom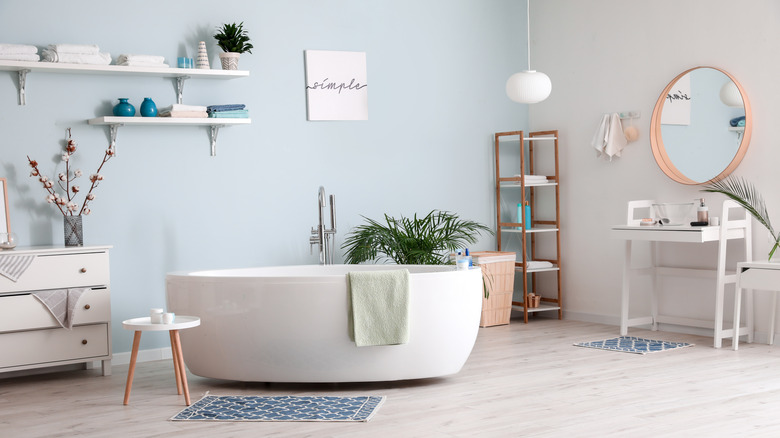 Pixel-Shot/Shutterstock
On the other hand, blue can be incredibly invigorating in brighter, lighter tones. Use these lighter shades of blue paired with clean and bright shades of white in your bathroom décor to create a tranquil but energizing spa-like retreat.
6. Touches of blue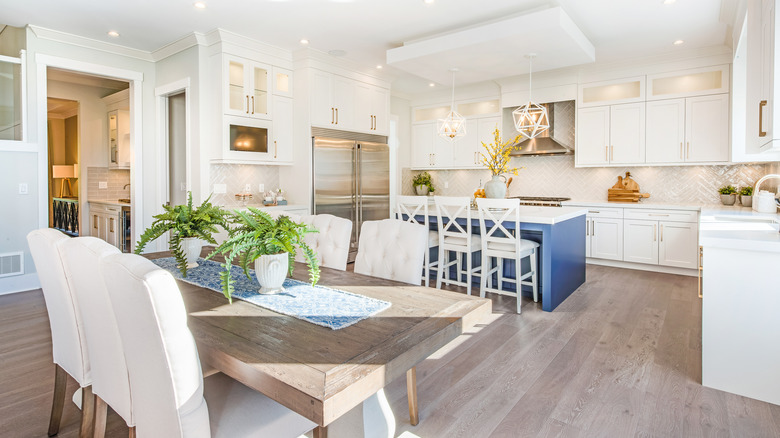 Sheila Say/Shutterstock
A little goes a long way with blue, especially when paired with white. Add a splash of the color to your kitchen in a subtle way — paint the island cabinets, add a table runner, etc. Keep the rest of the room a bright white to help it stand out.
7. Multiple shades of blue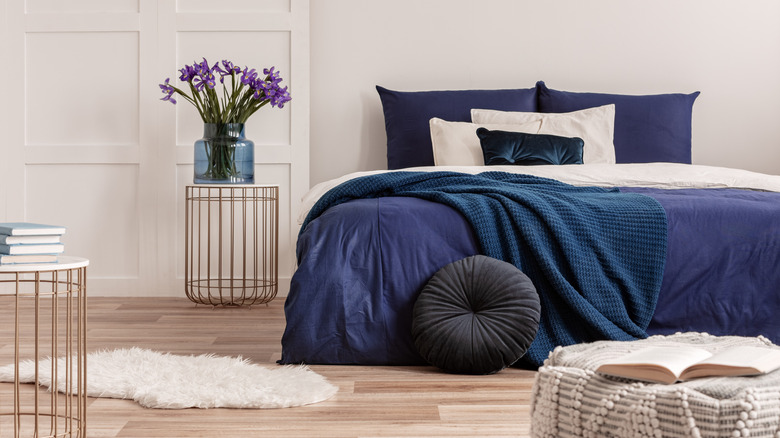 Ground Picture/Shutterstock
Since you have a neutral white backing, you can play around with mixing multiple shades of blue. In your bedroom, for example, pair a navy blue bedspread with darker, ocean-toned throw blankets and pillows, a modern blue vase, light blue books, and so on, all paired with a warm white.
8. Modern blue and white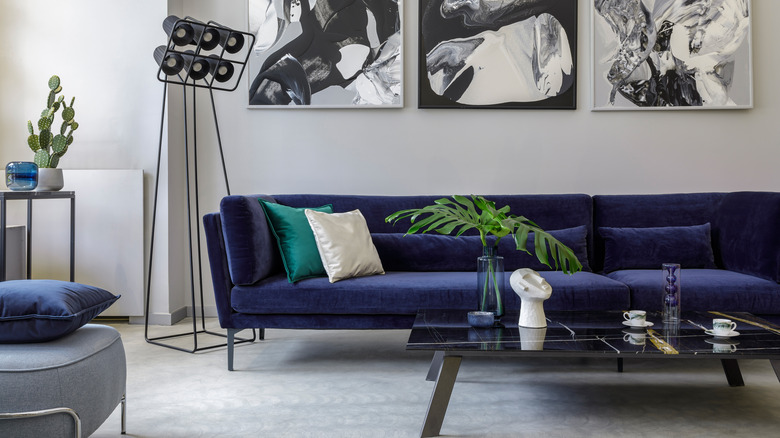 Followtheflow/Shutterstock
While blue and white tend to be very traditional, some simple alterations can help make them a little edgier and more modern. Opt for a deeper blue tone, slightly gray-toned white, and a few touches of black. 
9. French blue and white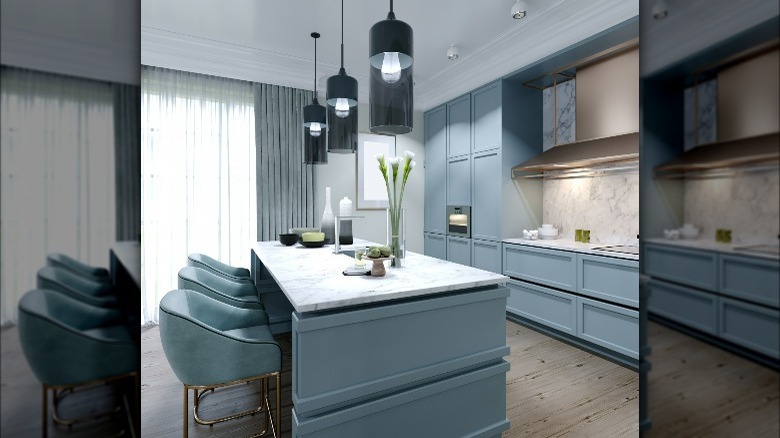 Peter_visual/Getty Images
French blue is a lovely, soft, and bright variation of blue that goes gorgeously with white. In your kitchen, for example, you could pair French blue barstools and curtains with soft white interior curtains, flowers, and other kitchen clutter.
10. Subtle pops of blue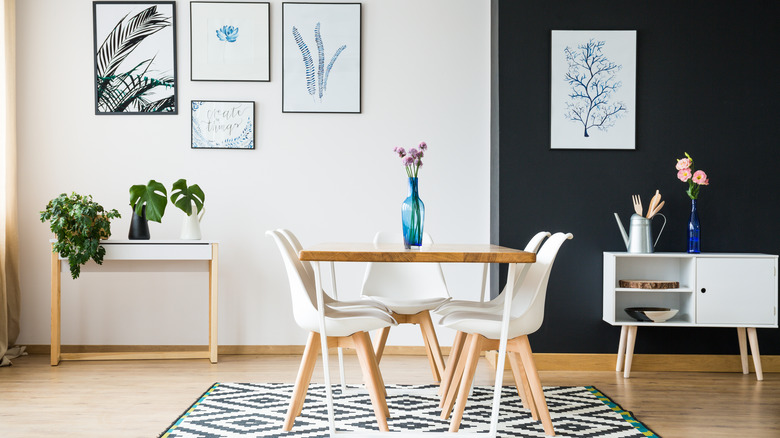 Ground Picture/Shutterstock
Instead of subtly incorporating blue with white, go for punchier pops. Choose white base furniture and decorations in your dining room — rugs, chairs, plant pots, etc. — and add in bold blue art pieces, glass vases, and so on.
11. Pale blue and white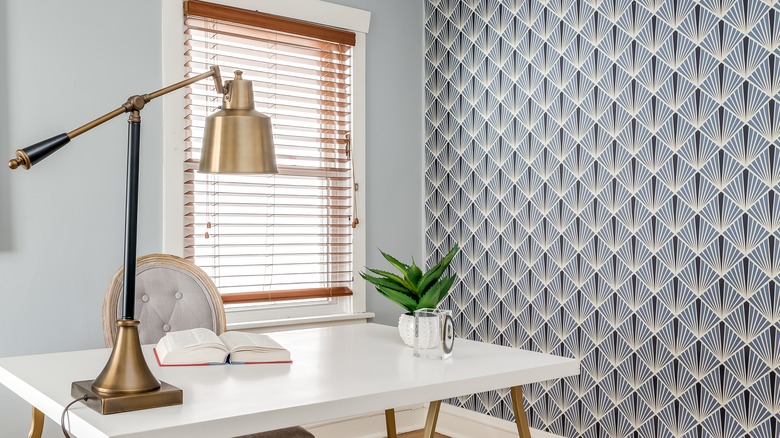 Fio Creative/Shutterstock
You don't want your home office or study to be overwhelming, but it should still have some color and personality. Choose a blue and white accent wallpaper, and then mix shades of pale blue and soft white throughout the rest of the room. Tie them in together with gold accents. 
12. Trendy blue and white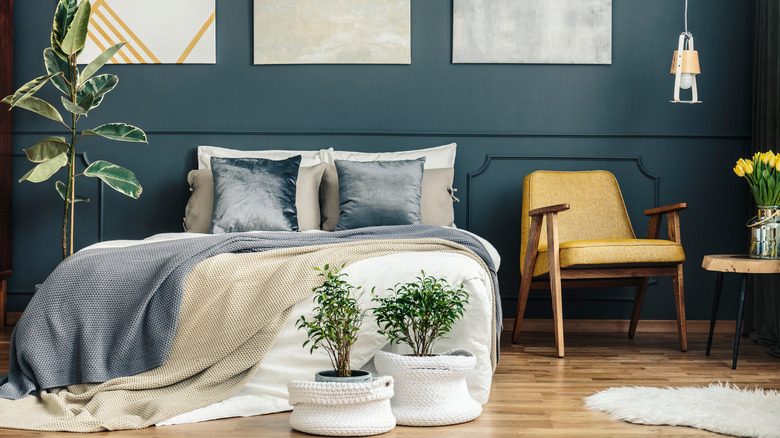 Ground Picture/Shutterstock
Blue and white can also have a very trendy look if paired carefully together. Look for edgier blue shades, like navy or dusty blue, with shades of ivory and cream instead of bright white. Pair with darker wood accents and pops of yellow to tie it all together.
13. Blue and white dining room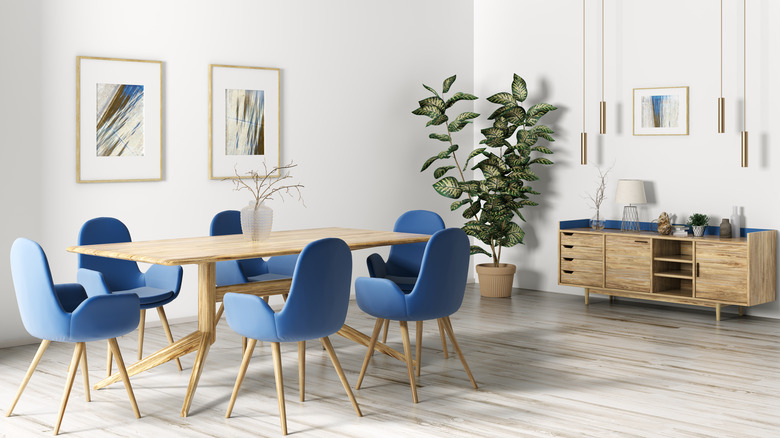 Scovad/Getty Images
Another way to approach a blue and white dining room design is to lean into blue's tendency to steal the show. Add blue dining chairs, blue artwork, and furniture with blue accents, and pair with softer, subtler white shades — a white lamp, white floors, walls, etc.
14. Cozy blue and white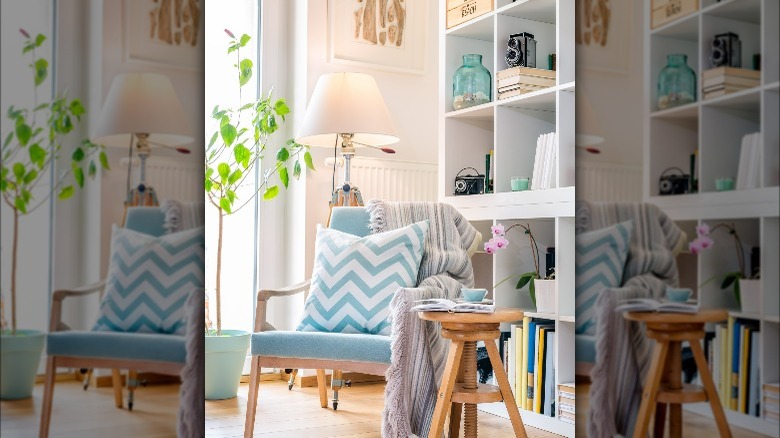 el lobo/Shutterstock
While blue and white together tend to have a more energetic tone, they can also be cozy if appropriately paired. Look for a smoother, cooler blue and a warmer, softer white. Add in lots of cozy textiles — throw pillows, blankets, wood tones, etc. — and an intentionally cluttered design. 
15. Traditional blue and white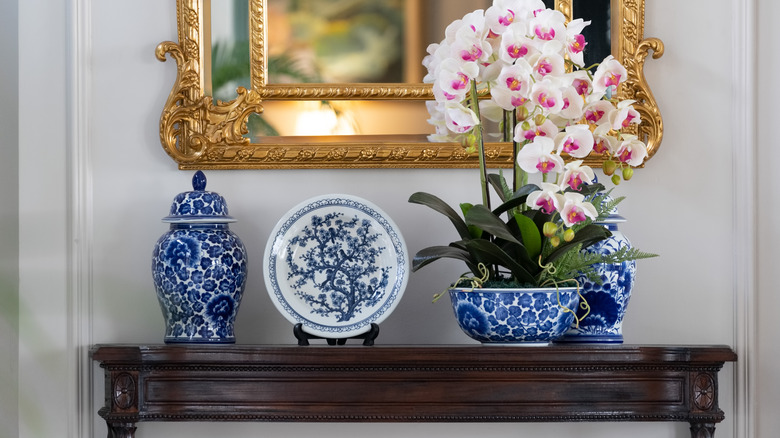 WichitS/Shutterstock
Traditional china dishware is usually blue and white and immediately invokes a sophisticated, elegant feel. You don't need to do much for it to be effective — display a few blue and white china pieces with other elegant touches, like a carved mirror or antique side table.
16. Baby blue and white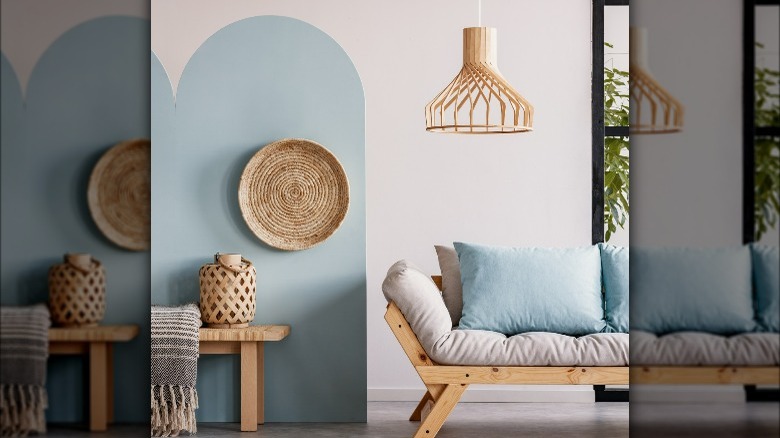 Ground Picture/Shutterstock
Baby blue may have a youthful ring to it in both name and effect, but when paired with a more sophisticated white shade and natural materials like wicker, rattan, and bamboo, it can be very refined.
17. Throw blankets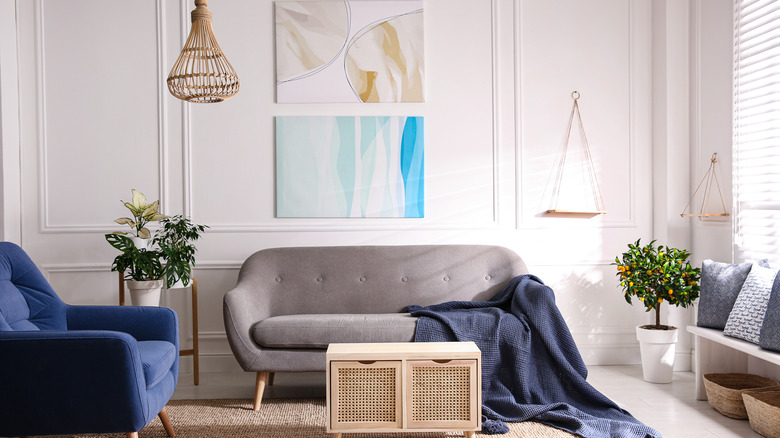 New Africa/Shutterstock
A simple throw blanket or pillow can make all the difference to an otherwise plain white room, especially when you choose an impactful shade like navy blue. Add in a few more navy pops through furniture, pillows, or artwork, as well as some white plant pots to balance it out.
18. Blue vases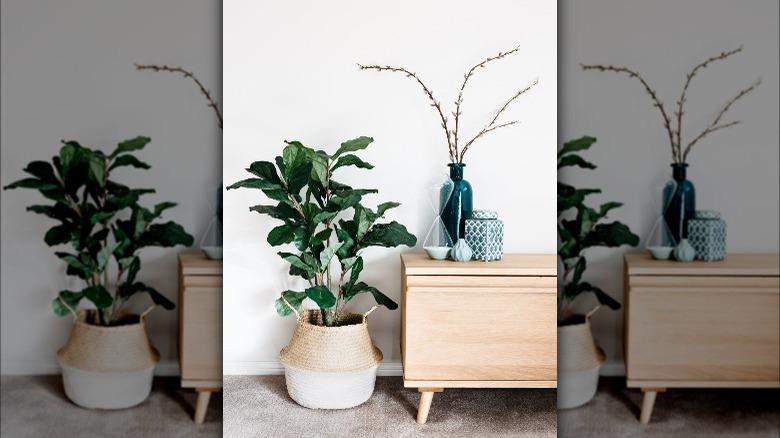 Jodie Johnson/Shutterstock
Spruce up a plain white corner of your home with an assortment of blue vases. Add some white flowers to one of the vases to emphasize the color palette. 
19. Sophisticated blue and white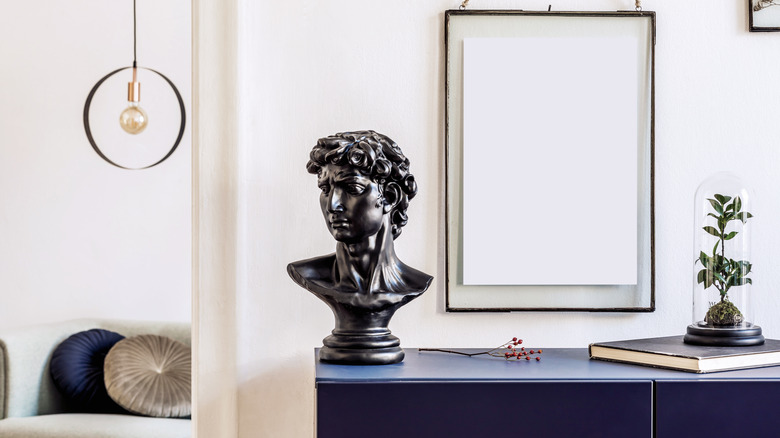 Followtheflow/Shutterstock
For a more sophisticated approach to blue and white décor, go for a classic, slightly warm white base and restrained pops of dark navy. Add in some black accents for good measure.
20. Blue and white kitchen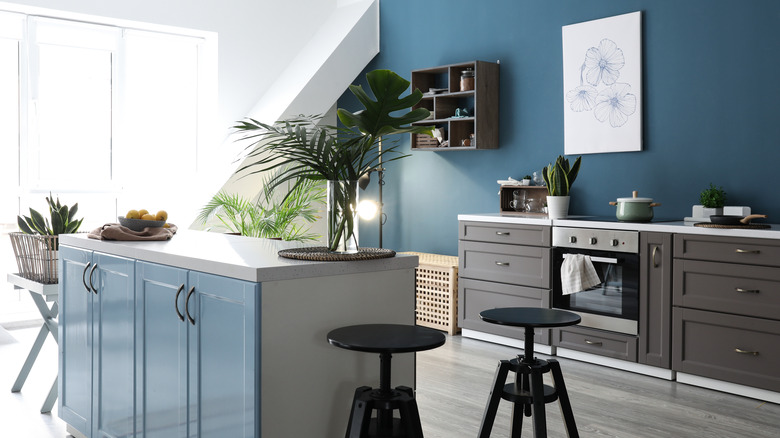 Pixel-Shot/Shutterstock
Another option for blue and white décor in your kitchen is to go for a softer but darker blue shade with stark white accents, adding touches of gray to help ground both colors a bit.
https://www.housedigest.com/1118472/timeless-blue-and-white-home-decor-ideas/