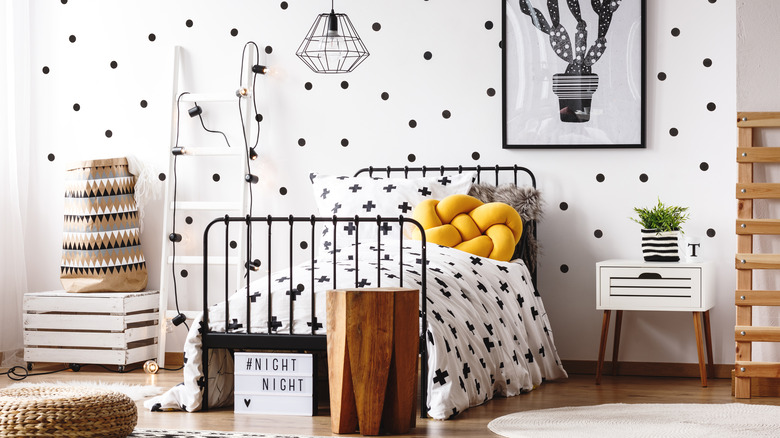 Photographee.eu/Shutterstock
When it comes to a modern child's bedroom, you can, of course, paint the walls any color you wish. But why limit your creativity to something so simple? Wallpaper is back in style, and there are so many patterns available that are perfect for any age or gender of child. Whether you are designing a sweet nursery with calming hues, a little kid's fairytale dream room, or a bold and bright teen bedroom, there are plenty of options to choose from. 
According to Walls Republic, wallpaper is more durable than paint and actually adds a layer of protection to your walls. This certainly isn't a bad idea when it comes to a child's room, as you not only get a fun new look but also protect your home at the same time. If the idea of using wallpaper makes you nervous, you can rest assured that wall coverings have significantly improved since your grandparents' day. Today's peel-and-stick wallpapers are foolproof, affordable, and simple enough to complete in a single day.
1. Bright floral fun
Both little kids and older ones will love the hot pink and lime green hues of this fun floral wallpaper. Unlike traditional floral wallpaper, which is usually more subdued, these bright pops of color will coordinate with a variety of décor. This modern design will also give you more growing room with your child's evolving preferences. 
2. Gold polka dots
Perfect for a princess, this gold polka dot wallpaper is subtle enough to match any room décor while also whimsical enough to bring a smile. Pair it with white, cream, peach, or gold furniture and decorations. The result will be a calming space with just a hint of sparkle. 
3. Rainy day walls
You don't need to wait for wonderfully rainy days when you have this sweet wallpaper in your little one's room. The grey raindrops pair perfectly with pink, blue, or whatever color your child prefers. The print is also muted enough to allow for wall hangings without clashing. 
4. Creative color scheme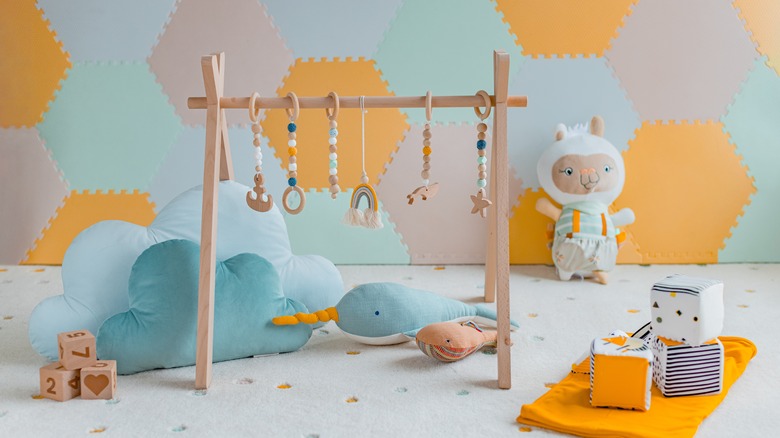 Maridav/Shutterstock
A baby's nursery doesn't have to be traditionally pink or blue. Instead, this wallpaper incorporates mustard, mauve, and other unconventional shades. The color contrasts are appealing to baby senses, with the side benefit of not trapping you into decorating your home in a not-so-appealing Fisher Price vibe. 
5. Dinosaur domain
There's no arguing that dinosaurs are just awesome, so why not decorate a child's bedroom with their own Jurassic jungle? There are many different dino prints to choose from when it comes to quality wallpaper, but we love this one with its blues and greys. 
6. Vintage vibe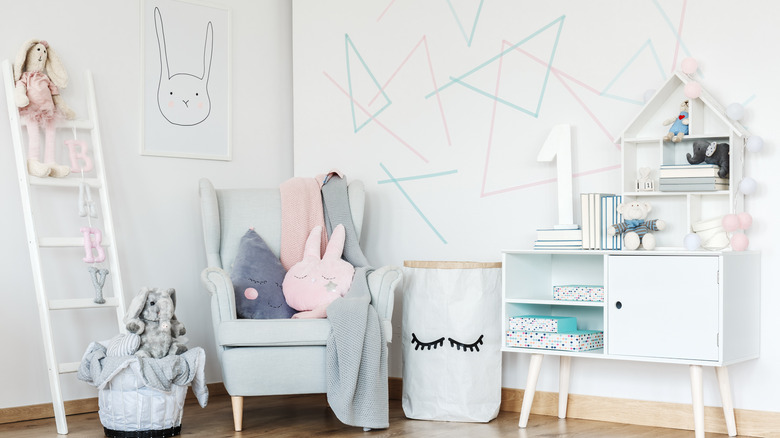 iStock
This wallpaper is a 1980s throwback with its design and color scheme. Use it as an accent wall and leave the other walls white or paint them a coordinating color. There's no rule that states wallpaper has to cover an entire room. 
7. Faux paint spots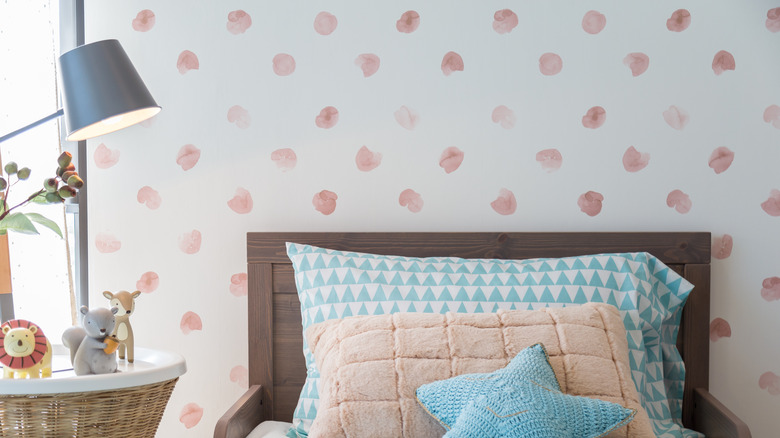 iStock
Even though you've opted for wallpaper over painted walls, you can still pay homage to the artistic aspect of paint with these fun abstract paint blotches. It's light, fun, and perfect for any budding artist. 
8. Up, up and away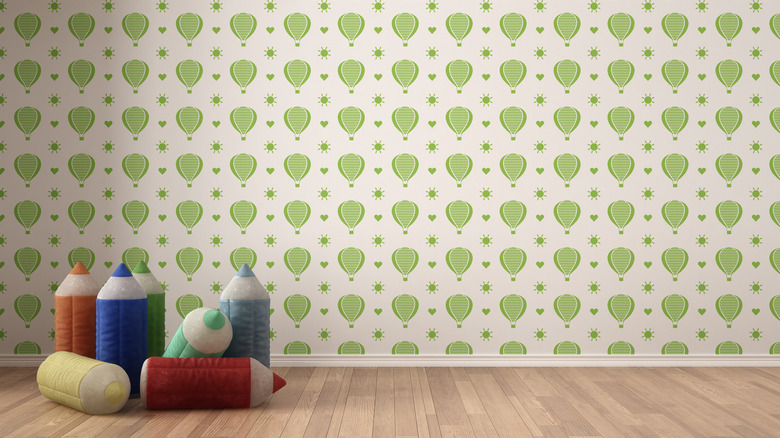 iStock
Your child has their whole life ahead of them, which makes this wallpaper perfect to dream of future high adventures. The green color makes it perfect for any gender, and it can easily inspire a whole room full of primary colors. 
9. Clouds and stars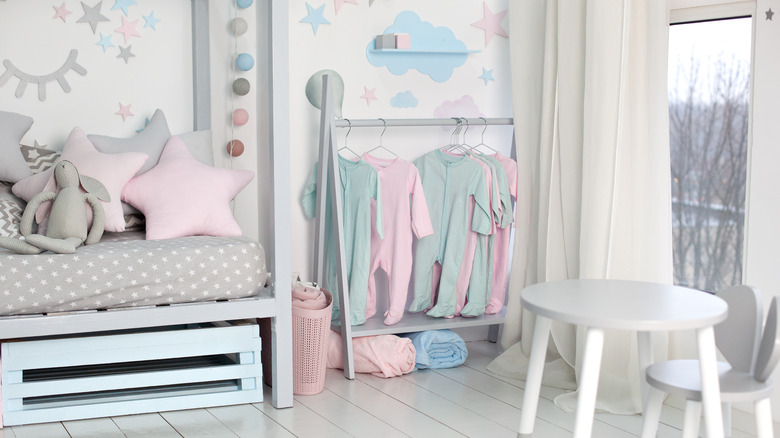 iStock
Pink and blue are traditional nursery colors, but they can also be played up in new ways. This wallpaper features stars and clouds, along with coordinating decals and wall art. Work in some grey and green to safely stay out of the cookie-cutter nursery zone. 
10. Tranquil forest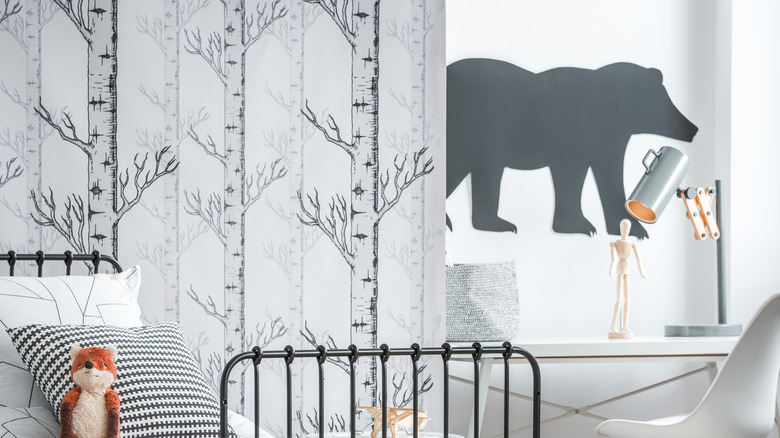 iStock
Not lions, not tigers, but bears? Oh my! Bring a forest-themed room up a notch with a beautiful woodland wallpaper like this black and white one. It's perfect for a variety of ages, giving it longevity without sacrificing style. 
11. Chalkboard creativity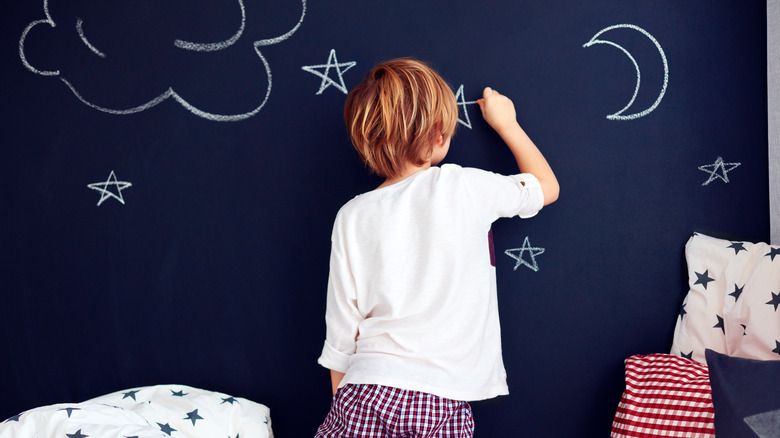 iStock
Chances are, someday, your child will color on a wall they aren't supposed to. Why not reroute them early on with a chalkboard wall they can go to town on? Chalkboard wallpaper exists for this exact purpose, and it's much easier to apply and maintain than chalkboard paint. 
12. Extra sprinkles, please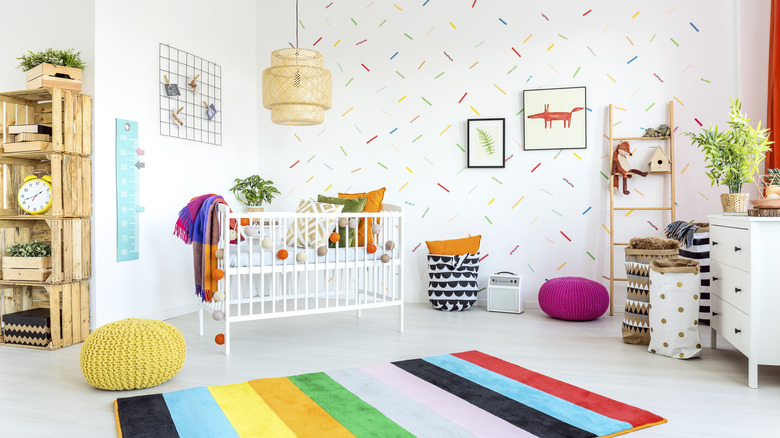 iStock
Life's a party when you're little, so play up your nursery walls with colorful sundae-inspired sprinkles. This is another one that makes a great accent wall or do up the whole room if you want pops of color throughout. 
13. Nautical fog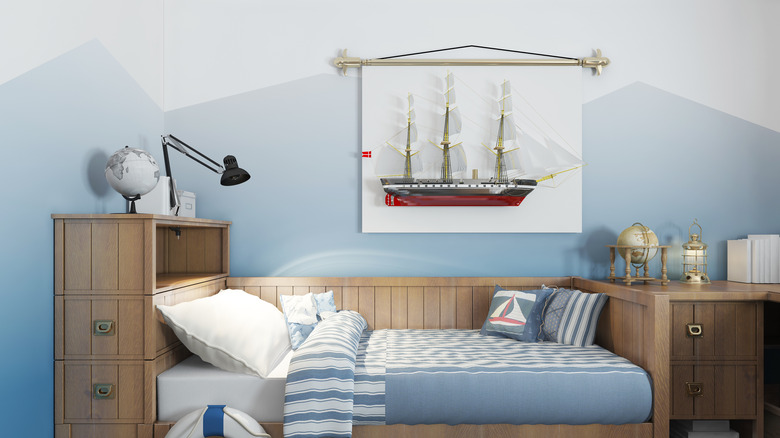 You might be raising a city dweller, but nautical dreams are free to float about the room every night with this calming wallpaper that takes inspiration from a foggy ocean morning coming ashore. 
14. Tropical teen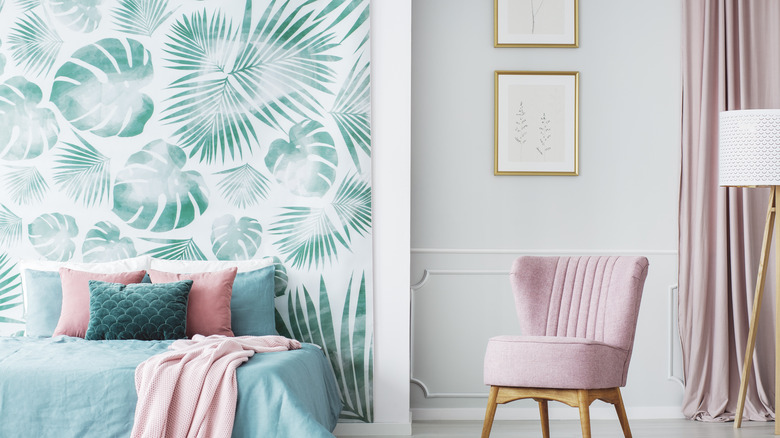 iStock
Tweens and teens will adore this deep green palm paper. Palm designs have come a long way since "The Golden Girls," and this modern choice is feminine without being overly girly. Pair it with velvety bedding, soft curtains, and a vintage accent chair. 
15. Bold and bright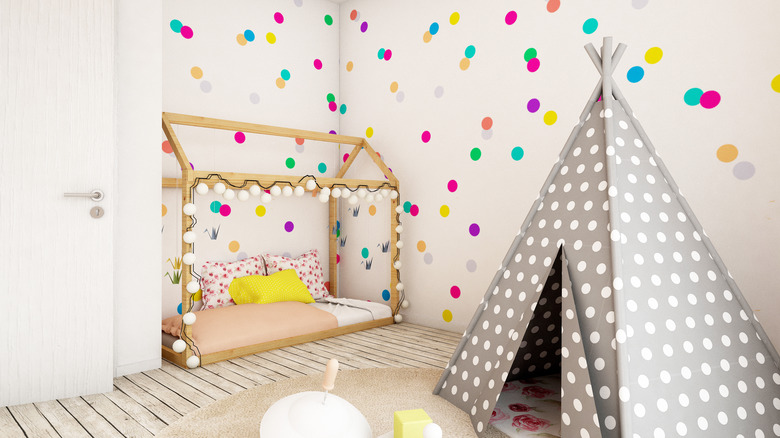 If you have a child who loves bright colors and fun designs, but you aren't so great at freehanding with a paintbrush, opt for a bright wallpaper instead. The pops of color in this wallpaper are ideal for either a bedroom or a playroom. 
16. Surf's up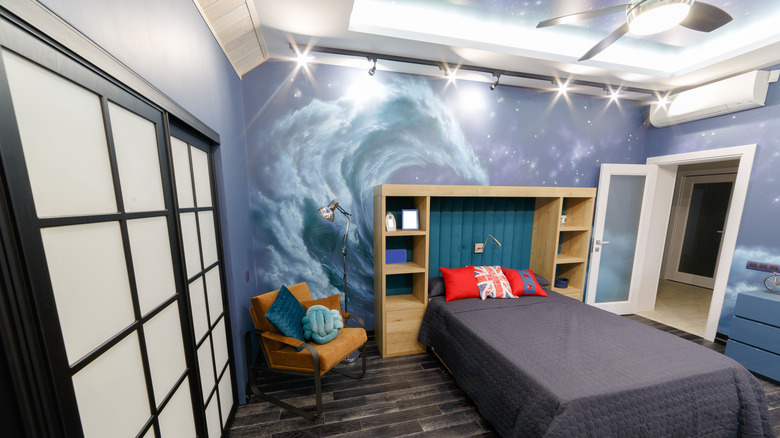 iStock
A tween or teen of either gender will love this ocean wave wallpaper that inspires surfer dreams, even when you're stuck in the suburbs. Use this one around the entire room for a totally immersive experience that will serve as a true hideaway from the rest of the world.
17. Embracing the seasons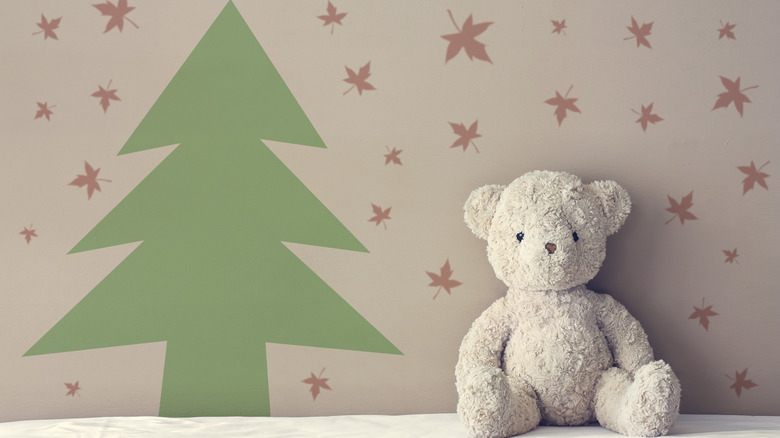 iStock
Halloween, Thanksgiving, and Christmas — there's plenty to get excited about in the fall and winter when you're a kid. Bring the fun of those seasons into your home year-round with this sweet wallpaper that features a pine tree and autumn leaves. 
18. Shiplap chic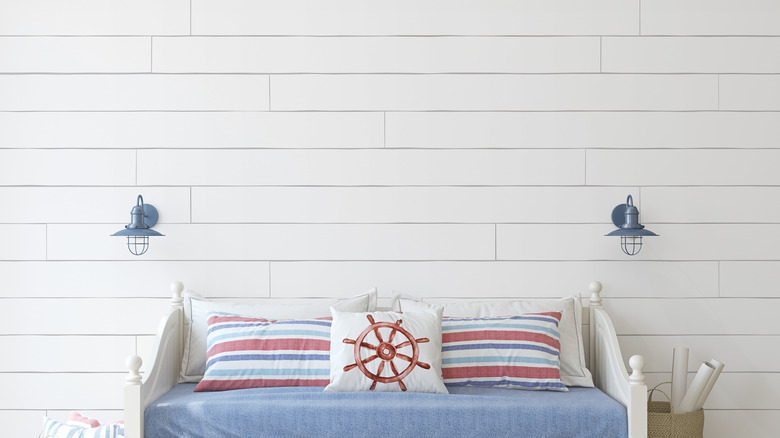 iStock
Shiplap walls will never go out of style, but they can certainly be a complicated project to install. Get the look without the hassle with this shiplap-inspired wallpaper. It's perfect for a kids' bedroom and will coordinate well with any décor. 
19. Cool cactus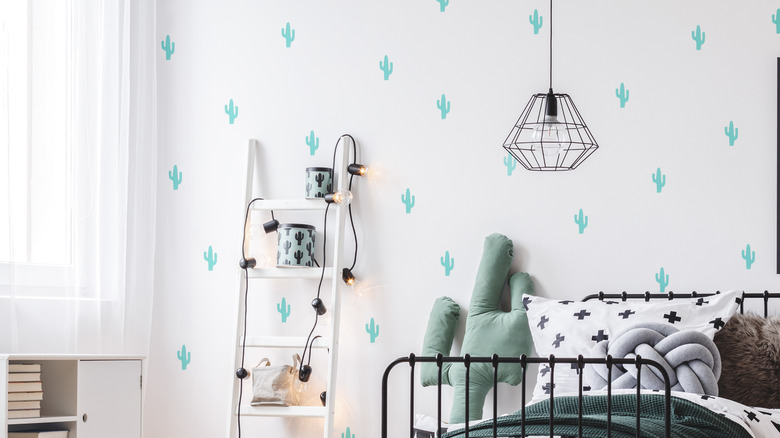 iStock
There's something beautiful and mysterious about the desert, and a cactus theme, in particular, is lots of fun. Be it for a younger or older child; this cute desert wallpaper will tie together any pillows, wall hangings, or plushies of similar design. 
20. Sweet dreams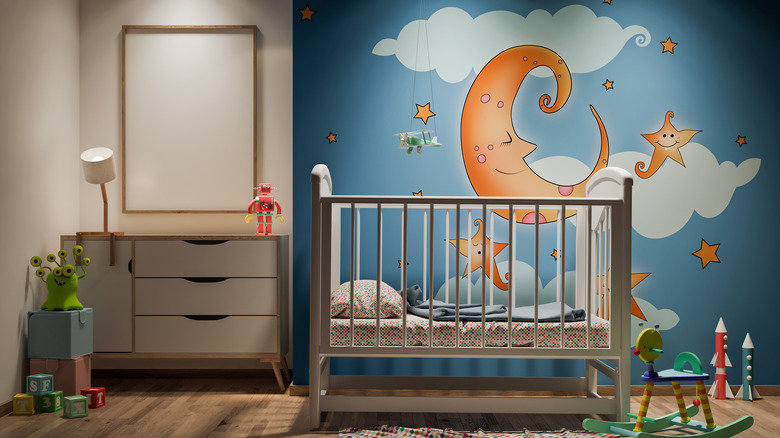 iStock
Fall asleep to the stars and the moon with this whimsical wallpaper that veers away from traditional for a cutting-edge nursery design that others will want to emulate. Pair it with white or natural wood furniture and flooring. 
21. Circles and orbs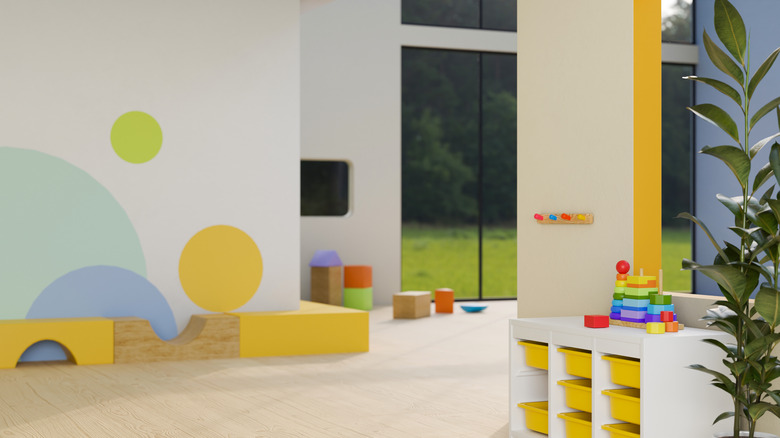 iStock
Circle designs are always popular and come in a wide variety of colors and sizes. You can fight with wall decals or make life easier with wallpaper that already has the circles positioned perfectly. They work great in bedrooms, playrooms, and even kitchen walls. 
22. Somewhere over the rainbow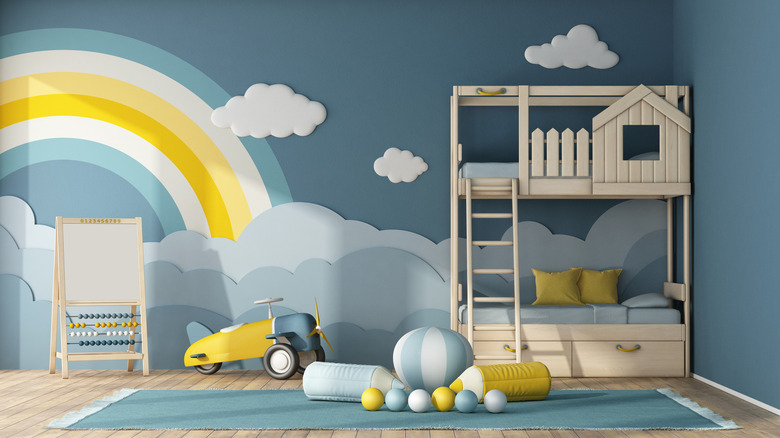 iStock
Rainbows don't have to follow the ROY-G-BIV rule — instead, go for a muted or monochrome rainbow for a children's room. It's lovely while allowing you more mileage out of it, as it doesn't lean so hard toward the juvenile. 
23. Mountain motif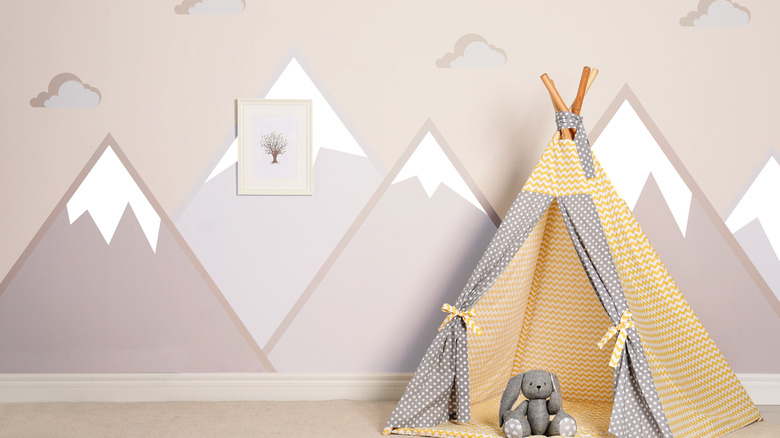 iStock
The mountains are calling, and you must go … to this room featuring top-of-the-world adorable wallpaper. Consider a play tent or other hideaway items in the room to camp out in and enjoy the view. 
24. Textured ambiance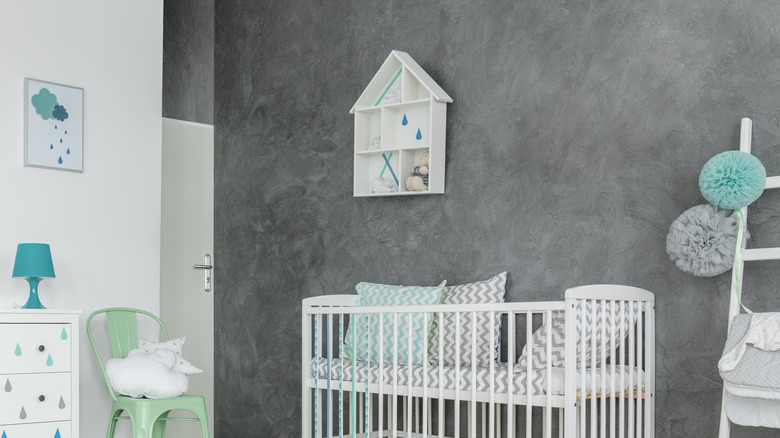 iStock
Textured painting was all the rage a couple of decades ago, and it still lives on in a more modern form through wallpaper that pays homage to it. A cool slate grey provides a calming environment, but it's available in virtually any color you can dream of. 
25. Fun faux brick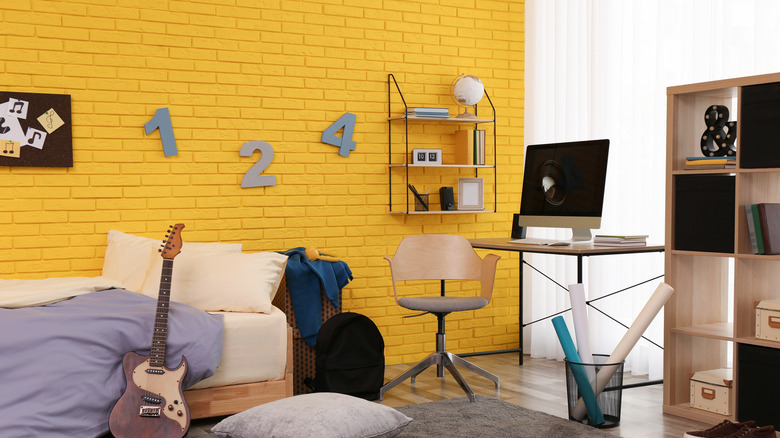 iStock
Brick brings a classic and unique feel to a room, but most homes don't have it readily available in interior spaces. Brick-print wallpaper is a great second option if you love the look of brick and want to bring an urban feel to your tween or teen's room. 
https://www.housedigest.com/1027005/25-fun-wallpaper-ideas-your-kids-will-love/