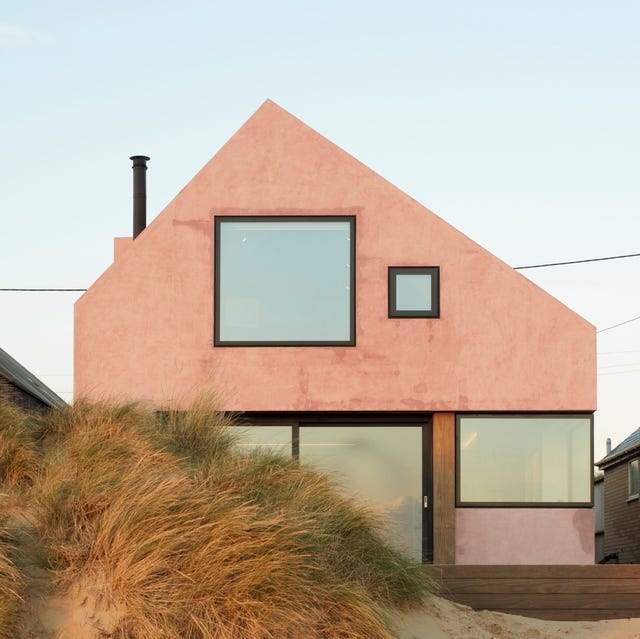 Richard Chivers/David Barbour
If you could design your dream home, what would it look like? And where would you want to build it? Well, you'll find plenty of inspiration in the 20 contenders for this year's RIBA House Of The Year. From modern new builds and extensive restorations, to quirky and more traditional designs, these homes are pretty spectacular.
Established back in 2013, the RIBA House of the Year award – led by the Royal Institute of British Architects (RIBA) – is awarded to the best new house or house extension designed by an architect in the UK.
The shortlist and eventual winner of the RIBA House of the Year 2022 will be revealed in the seventh series of Channel 4's Grand Designs: House of the Year, airing every Wednesday with host Kevin McCould, architect Damion Burrows, design expert Michelle Ogundehin and conservation architect Natasha Huq.
• Episode one of Grand Designs House of the Year (Hard to Build Houses) featured: The Red House, Leyton House, Seabreeze, Ostro Passivhaus and Ravine House.
Take a look at the first two homes to be shortlisted and the remaining contenders for the RIBA House of the Year 2022…
Advertisement – Continue Reading Below
1
Seabreeze by RX Architects
SHORTLISTED
• East Sussex
A quite different interpretation of a beach house, the peachy pink Seabreeze property backs onto soft sand dunes and breathtaking views across the beach and the English Channel to the south. This is the type of home to entertain in thanks to its mini spa, bespoke drinks cabinets and ever-changing backdrop. Uniquely, it can also only be accessed by driving along the beach.
– Featured in episode one of Grand Designs House of the Year (Hard to Build Houses)
2
The Red House by David Kohn Architects
SHORTLISTED
• Dorset
With a playful take on the rural farmhouse, The Red House has an eccentric appearance thanks to its bold green eaves, doors and windows. Inside you'll find an informal but connected series of spaces, unified throughout by beautiful end-grain, larch wood-block parquet flooring.
– Featured in episode one of Grand Designs House of the Year (Hard to Build Houses)
3
Ravine House by Chiles Evans + Care Architects Ltd
• Derbyshire
This quirky 1967 house, which was previously damp and cold to live in, has been brought into the 21st century in style. Blending mid-century modern furniture, innovative underfloor heating and construction details that took inspiration from Frank Lloyd Wright, Ravine House is a great blend of restoration and new discoveries.
– Featured in episode one of Grand Designs House of the Year (Hard to Build Houses)
4
Leyton House by McMahon Architecture Ltd
• London
With brick being used at street level and timber above, Leyton House makes a small plot feel bright and spacious thanks to its internal courtyards and linear roof light. Natural materials such as a clay plaster finish, exposed brickwork, and earthy hues work together to bring a touch of contemporary Mexico to what was a row of 1960s English terraces.
– Featured in episode one of Grand Designs House of the Year (Hard to Build Houses)
5
Ostro Passivhaus by Paper Igloo
• Scotland
A labour of love, Ostro Passivhaus was built over a period of eight years of evenings and weekends by the architect owners. Ensuring that it met the exacting mathematical standards of the Passivhaus certification was key to the cube-like design. With design features reminiscent of Mackintosh's Hill House, the two-storey eco home clad in timber, utilises ingenious storage solutions too, such as hidden drawers in the steps and a gin store next to the kitchen worktop.
– Featured in episode one of Grand Designs House of the Year (Hard to Build Houses)
6
The Parchment Works by Will Gamble Architects
• Suffolk
With a modern extension to a grade II listed Victorian house, The Parchment Works marries indoor and outdoor rooms that are flanked by the ruined walls of what was an historic parchment factory. By inventively re-using existing structures along with reclaimed and upcycled materials, this small extension has resulted in some incredible impact.
7
The Library House by Macdonald Wright Architects
• London
With a name referring to the neighbouring Edwin Cooper's Library building and adjacent terrace houses, it's hard to believe that The Library House is only four metres wide, once you step inside. Locally sourced natural materials and crisp carpentry make it a light and calming space, with the property being purposely built for the rental market.
8
The Garden Studio by Brisco Loran and James Alder Architect
• Norfolk
Taking what was originally a garage and transforming it into a simple single-storey extension, The Garden Studio has become a designated art studio which opens onto an enlarged kitchen. The pale timber highlights its fresh and spacious appearance, as do the number of windows and skylight which let in plenty of natural light.
9
The Dutch Barn by Sandy Rendel Architects Ltd
• West Sussex
The Dutch Barn is unlike many other private homes. Firstly, the surrounding gardens have been made into a wonderful eight-acre public garden, with the historic barn sitting right in the heart of it. And the public can even take in an elevated view of the gardens from the custom-built viewing tower. Inside, the house is designed upside down, with the ground floor containing the bedrooms and a home office. While upstairs, there is one large space to enjoy.
10
Surbiton Springs by Surman Weston
• London
Named after the neighbourhood that it resides in, Surbiton Springs is a contemporary two-bedroomed new-build home, with the white exterior harkening back to the long tradition of modern white villas and civic buildings being customary in the area since the 1930s. The traditional A-frame is blended with a mock Tudor-style to give it a modern but unique appearance, which might even remind you of a summer house in Palm Springs.
11
Suffolk Cottage by Haysom Ward Miller Architects
• Suffolk
Giving a new lease of life to a former four-room labourer's cottage, Suffolk Cottage is a family home which came to be from modest resources and a degree of self-building. Opening up the side, which was previously the back of the home, means that the incredible views of the surrounding landscape can be appreciated from a variety of different vantage points, such as on the outdoor area.
12
Peeking House by Fletcher Crane Architects
• London
Replacing what was previously an unsightly garage and general dumping ground, the Peeking House was developed into a four level home, despite its tight and somewhat constrained site size. With the first of two lower floors situated a half level below ground, as well as a basement level, every inch of space has been designed thoughtfully.
13
Norfolk Barn by 31 44 Architects and Taylor Made Space
• Norfolk
Starting out as a weekend home fantasy yet turning into a permanent everyday family home, Norfolk Barn has taken the steel frame of the original agricultural building and altered the space into one of luxury. With an indoor swimming pool at the heart of the home, sleek natural materials being used throughout and even a transplanted ancient olive tree, it truly evokes the excitement of a holiday somewhere far away.
• London
Weaving old and new together in a fun and unexpected way, Mountain View took what was once a semi-derelict house and upgraded it by way of an extension and refurbishment. The transition between the original home and the addition takes inspiration from both a scene in the film Trainspotting and the Matterhorn Bobsleds Ride at Disneyland to create its surreal appearance.
• Tour Mountain View here.
15
Mews House Deep Retrofit by Prewett Bizley Architects
• London
Refurbishing an existing end-terrace mews in London meant stripping out the original interior to create a much more sustainable and energy efficient home. A detailed light timber staircase connects three levels of living spaces, with a retractable roof light making even more of a feature of the central column of the property.
16
Mere House by Mole Architects
• Cambridgeshire
This upside-down Passivhaus-style home, Mere House, has an upstairs kitchen and living room, as well as a bedroom that looks out for miles across the surrounding fens. On the ground floor, there is an additional spare bedroom, a study, and several utility spaces. Outside is a garden with several vegetable plots, a rainwater harvester and several other features to conserve water, with the owner hoping to be self-sufficient over their lifetime.
17
House at Lough Beg by McGonigle McGrath
• Northern Ireland
Situated within the part walled demesne of Ballyscullion Park, on the shores of Lough Beg in Ulster, the House at Lough Beg took 10 years to complete. Instead of having its own manicured garden, the owners have embraced the natural parkland, with several different points within the home enjoying the beautiful landscape views outside.
18
Derwent Valley Villa by Blee Halligan
• Derbyshire
A house that was deliberately designed to look pulled apart, Derwent Valley Villa's separate living spaces are spread out over the grounds. You'll find the entrance and guest wing in the southeast corner, while the primary residence is located to the northwest. It's all about letting the outside in in this home, with garden courts as outdoor rooms, which can be appreciated at any time of day or night.

19
The Cowshed by Crawshaw Architects LLP
• Dorset
Having previously seen very little change since it was used to store farm machinery for 40 years, The Cowshed now houses a breathtaking library, an office, a kitchen and a bathroom. Oak has been used throughout to add a bright, calming appearance to the space. And while it does not contain a full bedroom, there is a pull-out double sofa bed in the central nave space.
20
The Den by Technique Architecture and Design in collaboration with Stallan-Brand
• Scotland
Taking two small, damp flats and transforming them into a one-bedroom property, The Den had many of the RIBA jury members considering a move to the coastal village of Tighnabruaich in Scotland. The juxtaposition of the black vertical-striped cladding outside, to the raw and natural stone inside, allows this home to look both modern and cosy at the same time.
Follow House Beautiful on Instagram.
Advertisement – Continue Reading Below

https://www.housebeautiful.com/uk/renovate/homes-makeovers/g40990052/grand-designs-house-year-award-riba-2022/