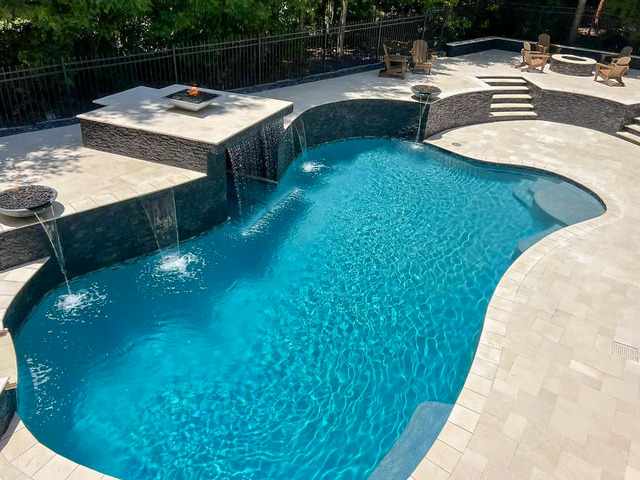 The last few years have radically changed the way many people work and live, especially when it comes to home comfort and entertainment. Many of us spent more time in our homes than ever during (and due to) the pandemic, which led to an uptick in the sale of entertainment items such as board games. People realized that they wanted to make their homes a place to enjoy, even after the pandemic began to wane. This realization and change in mindset led to an incredible surge in backyard pool installations.
According to a survey conducted by CAPE Data, pool installations enjoyed a 20% boost within 12 months during the pandemic. This increase in people wanting an oasis right in their own homes has kept pace since, with more people realizing that they don't have to travel to enjoy a vacation-type atmosphere.
This surge in pool popularity has opened the door for savvy business leaders to offer the best in pool technology and design. This is especially true for serial entrepreneur Eddie Karr and his luxury pool business Bellareed Luxury Pools, which has rapidly become a leader in the luxury pool space.
"I recognized there is a great demand in revolutionizing this industry that seemed to have stood still for the last 50 years," Karr explains. "The demand for in-ground pools has risen exponentially while the supply chain remained the same."
Elevating Design and Providing Luxury
The Bellareed approach to pool installation is distinctive because it goes far beyond a simple home improvement project; each install is approached from a customer-centric perspective. Karr and his team are aware that inground pools are not only a luxury, but provide entertainment, an outlet for an active lifestyle, and become a part of a home's identity. People who choose to have a pool installed add tremendous value to one of their biggest assets — their homes.
Bellareed takes each customer as an individual, catering to their personal needs and design wishes. They work within various budgets to ensure that luxury inground pools can be accessible to more than just the 1%. All the while, Bellareed only works with the top-tier material suppliers, giving their clients exclusive access to unique and exotic products for their pools. These specialty materials include PebbleTec, a pool finishing made from aggregate materials that feel like pebbles underfoot.
"Little is certain in the world, but there is one thing that's sure to snap you out of a luxury pool experience, and that's the way your pool surface feels," says Karr. "It's a subtle thing that really makes a difference when it comes to what actually makes a pool a luxury pool."
Bellareed also offers other luxury backyard amenities, such as fire pits and outdoor kitchens, making them a one-stop-shop for building that perfect "staycation" sanctuary.
Stellar Customer Service
One of the most significant issues in the luxury pool industry, especially with current supply chain issues, is scheduling and delays in work. During the pandemic, the wait list for a backyard pool became so long that many people had to wait months for work to even begin. Bellareed, however, has perfected the art of delivering on time, every time, and often ahead of schedule.
"Right now, the average builder is completing pools in 18 to 24 months instead of the usual 6 to 8 months," Karr says. "I realized that accepting the status quo is not an option. I knew that there was a better way. Now, we are completing projects in 45 to 60 days — sometimes even less."
Bellareed has also created the position of Client Relarionship Managers to aid in the process of building their pools. The CRM provides concierge level service throughout the entire process, from design, to the time our clients are swimming in their new luxury pool, and for years to come. They know how stressful new construction can be and having one point of contact to help you through the process is not only beneficial to Bellareed's team but their clients as well.
This quick and quality work is genuinely disruptive in an industry that has become infamous for slow output. Bellareed can expedite the design and build process because everything they offer — from initial design consults to the physical installation — is handled in-house. "By performing everything in-house, we can control not just the quality but the time in which we can complete the project," Karr clarifies.
A Leader in the Industry
In a mere two years, Bellareed has already elevated itself to a leader in the highly-competitive market of the Southeastern United States market. Their current operations are in Georgia and Tennessee, and they have their sights set on expanding into additional states in the Southeast by 2023. "We want to be the largest in the nation," remarks Karr. "We want to serve every metropolitan area in the country."
The Bellareed team is driving forward with a crystal-clear vision for their business. The demand for pool installations and custom backyard oasis design shows no sign of slowing, allowing Bellareed to be ready to meet this unique moment.
Release ID: 428229
https://www.digitaljournal.com/pr/how-bellareed-disrupted-the-pool-industry-despite-the-pandemic