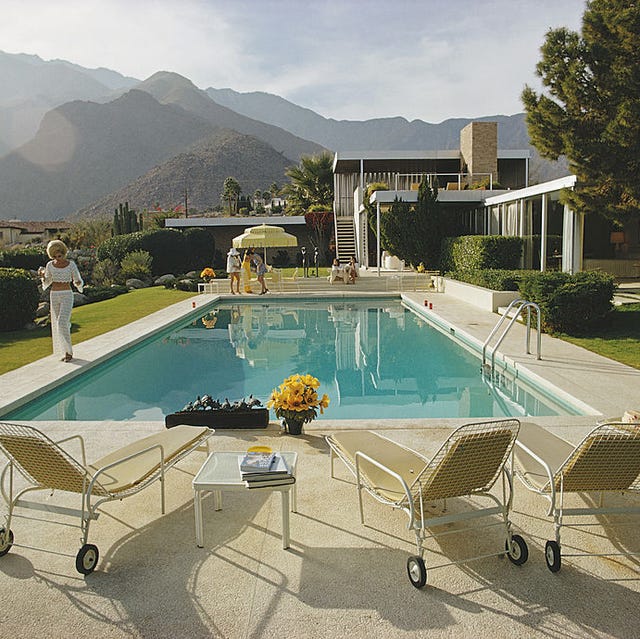 Slim AaronsGetty Images
No architectural style has enjoyed a longer period of buzziness than midcentury modern architecture. First developed in postwar Europe in the late 1920s, the style eschews the ornamentation of earlier Art Deco styles in favor of minimal, function-forward spaces, often inspired by or in reference to nature. But of course, as the movement spread—informed by various vernacular styles and riffs by individual creators—it evolved into various arms of one style; that's why a modern structure in New York by Eero Saarinen may look very different than one in France by Eileen Gray or in Mexico by Luis Barragán. But still, practitioners of midcentury modern architecture share a common thread of human-centric design, minimal ornamentation, and focus on functionality—just all executed through different creative lenses. From big-name icons you've probably heard of (hello, Charles and Ray Eames) to often-overlooked talents who contributed in big ways to the style, these are the midcentury modern architects you should know.
Advertisement – Continue Reading Below
Sometimes referred to as the father of modern architecture, Le Corbusier (given name: Charles-Édouard Jeanneret) began experimenting with what are now the core principles of modernism before the movement even had a name. The Swiss-born creative was not formally trained in architecture (he studied painting and watchmaking) but began conceiving a signature style of pared-down design and simplified materials shortly after World War II. One of his most famous buildings is Villa Savoye, seen here, in Poissy, France.
Le Corbusier worked closely with his cousin, Pierre Jeanneret, as well as his head of interior design, Charlotte Perriand. Perriand shared many of Le Corbusier's ideas about a functional space that lives in harmony with nature. Her L'Arcs 1800 apartments, designed for the French ski town of Savoie, embody much of her ethos, consisting of minimal, repeated units that prioritize views of the natural surroundings.
At the same time as European modernism was taking off, Paul Williams was beginning his career in Los Angeles. After three years working for John C. Austin, Williams opened his own office, where he received acclaim as a master draftsman (shown is a drawing of his for the Linde Building in Los Angeles). As a Black architect often working for white clients, Williams even became proficient at sketching upside down—to accommodate racist clients who refused to sit beside a Black man. Williams had an incredibly prolific career, designing numerous public buildings as well as homes for the likes of Frank Sinatra and Lucille Ball, in a career that spanned five decades. He was the first African American architect inducted into the AIA.
The daughter of an Irish painter who encouraged artistic interest early, Eileen Gray studied art in Paris before switching her focus to design and architecture. In 1922, she opened her Paris shop, Jean Désert, where she first stocked items in more luxurious materials of the Art Deco movement, but later adopted the more minimal aesthetic of the burgeoning modernist movement. Her most famous architectural work is E-1027, an oceanfront villa in Roquebrune-Cap-Martin, France, which she built between 1926 and 1929 and which Le Corbusier famously vandalized by nakedly painting colorful on its walls while visiting, against Gray's wishes, in an act many consider to be a sexist outburst in response to such a seminal work of architecture created by a woman.
Born in Berlin, Walter Gropius studied architecture in his home city and Munich before joining the office of industrial designer Peter Behrens, which also employed Le Corbusier and Mies van der Rohe. He is best known for founding the famous Bauhaus School, a pioneering educational institution that celebrated the unison of art and craft, the beauty of functional design, and the potential of mass production. Paul Klee, Josef Albers, László Moholy-Nagy, and Wassily Kandinsky were all involved with the school. With the rise of Naziism, Gropius emigrated to the U.S., where he completed several notable modern buildings in the burgeoning International Style, including New York's Pan-Am building (now the Met Life building), shown.
Perhaps no name is as synonymous with the clean-lined architecture of modernism as Ludwig Mies van der Rohe (born Ludwig Mies, he later adopted his surname as a first name and adopted the upper-calss "van der Rohe" when he began working with wealthy clientele). The German-born creative began his career creating neoclassical homes but after World War I he, like his close associates Walter Gropius and Le Corbusier, turned to minimalism, looking to create a style that felt encompassing of the era. Van der Rohe served as the last director of the Bauhause before emigrating to the U.S. when the Nazis took power in his native country.
A Chicago native, John Moutoussamy studied at the Illinois Institute of Technology, where Mies van der Rohe was one of his professors. Moutoussamy adopted many of van der Rohe's principles of simplicity, several of which are evident in his most famous building, the Johnson Publishing Company, which housed the offices of magazines like Jet and Ebony. To this day it is the only skyscraper in downtown Chicago designed by a Black architect. It was designated a National Historic Landmark in 2018.
Though the majority of his work was completed before the midcentury era, Frank Lloyd Wright in many ways laid the foundation for modernism in America and beyond. His philosophy of "organic architecture" emphasized the importance of nature and the human body in design, a sharp contrast to the coldness with which the International Style was often regarded. Wright was also incredibly influenced by Japanese art and architecture, and his adoption of certain motifs—decorative screens, lacquer, paneling—embedded these in the language of American modernism for years to come.
Born and educated in Vienna, Rudolph Schindler was introduced to the work of Frank Lloyd Wright through the Wasmuth Portfolio, a wildly-successful two-volume tome of the American architect's work, which he promoted in Europe in 1911, leading to cross-influence with several modernists on the continent. Fascinated with Wright's work, he continued writing him letters until he was finally hired to oversee Wright's work in the U.S. while he focused on the massive Imperial Hotel in Tokyo, begun in 1919. Wright and Schindler would end up having a falling out in 1931 over differing claims of Schindler's influence within the firm, especially overseeing such iconic projects as Hollyhock House and contributing to the Imperial Hotel. After leaving Wright, Schindler went on to create several iconic modern homes in the Los Angeles area, including the Chase House, shown, whose relationship with its surrounding nature is reminiscent of Wright's ethos. (The two architects did allegedly end up reconciling in the 1950s).
Also a Vienna native who relocated to Los Angeles, Richard Neutra once enjoyed a brief partnership with Rudolph Schindler—though the two would soon have a falling-out that resulted in them remaining nemeses for the remainder of their careers. (The relationship fractured, allegedly, when Neutra and his wife came to the home Schindler shared with his wife and where he frequently hosted debaucherous parties, many with swingers. The more buttoned-up Neutras were not a fan.) Still, both created some of the most recognizable modern homes of the country, including several in the modernist haven of Palm Springs, like the Kaufmann Desert House, shown, which was immortalized in a photoshoot of its residents by the legendary photographer Slim Aarons.
After serving in Europe during World War I, Hilyard Robinson studied architecture at Columbia before returning to his native Washington, D.C. There, he worked for various firms while also serving as a professor at Howard University, whose campus is dotted with buildings of his design. He also designed the country's first housing project, D.C.'s Langston Terrace Dwellings, shown, which opened in 1939. They were added to the National Register of Historic Places in 1987.
Born in Guadalajara and educated as an engineer, Luis Barragán remains one of Mexico's most renowned creatives for his thoughtful use of bold color juxtaposed against staunchly minimal forms. His work was greatly influenced by a 1931 trip to Europe, where Barragán visited many buildings by Le Corbusier, which he described as "very modern, like a beautiful sculpture." This sculptural take on building forms would go on to inform many projects, like a Los Angeles shop for Paul Smith, shown, as well as the artist's own home, now a UNESCO World Heritage Site. In 1980, he won the illustrious Pritzker Prize in architecture
After a brief stint studying at the Academy of Fine Arts in Vienna, Hungarian-born Marcel Breuer became one of the youngest students at the Bauhaus, where he was soon appointed head of the carpentry shop. The Bauhaus's ideal of holistic design had a huge impact on Breuer, who would go on to develop groundbreaking designs for furniture (like his iconic tubular steel-and-wicker chairs) as well as architecture. After relocating to the U.S. via London following the rise of Naziism, Breuer designed several buildings stateside, including the headquarters of the Department of Housing and Urban Development and Madison Avenue's Breuer Building (formerly the Whitney Museum, now the Frick Madison), shown.
Born to a Japanese father and Irish-American mother in Los Angeles in 1904, a young Isamu Noguchi soon moved to Japan to join his father, where he had his first exposure to woodworking trailing the carpenter who built his mother's home. He returned to the U.S. for high school and after graduation began an apprenticeship with the sculptor Gutzon Borglum (best known for Mount Rushmore). In 1926, he was awarded a Guggenheim fellowship to study sculpture in Paris before traveling through Asia. Shortly after he returned to the United States, he was interred at the Poston Camp, the largest of several concentration camps created out of growing anti-Japanese sentiment in the U.S. ahead of World War II, where he was accused (and acquitted) of espionage. It was only after his return to New York following the war that Noguchi fully realized the organic, sculptural modern style for which he is known today. Much of his work—like the iconic Akari lamp—pulls from Japanese tradition, while architectural and furniture designs draw from his experience with sculpture.
Born in Ohio and educated at Harvard, Philip Johnson became the first director of the architecture department of the Museum of Modern Art in New York in 1930, where he cultivated a focus on modernism by inviting pioneers of the movement, like Walter Gropius and Le Corbusier, to visit. Though his designs for skyscrapers in many American cities remain parts of the skyline, his most famous project may be the Glass House, the home he designed for himself and his longtime partner, David Whitney, in New Canaan, Connecticut, for which he won the inaugural Pritzker Prize. Later in his life, Johnson received criticism for his Nazi sympathies—he vacationed in Germany and wrote admirably of the regime in its early days, writings for which he apologized later in life. Criticism continued posthumously, with Harvard removing his name from a building he designed on its campus as recently as 2020.
Born in Rio de Janiero and educated at the city's Escola Nacional de Belas Artes at the Federal University of Rio de Janeiro, Oscan Niemeyer would go on to have perhaps the largest impact of any creative on his home country. Following his graduation, he joined the office of architects Lúcio Costa, Gregori Warchavchik, and Carlos Leão as a draftsman. He would go on to assist Costa on the headquarters for the Ministry of Education and Health, a project on which Le Corbusier served as a consultant. The subsequent glass-and-concrete skyscraper would serve as a touchpoint for modern urban architecture going forward. From there, Niemeyer went on to assist Costa on the Brazilian pavilion at the 1939 World's Fair, before completing many iconic monuments with various collaborators. But Niemeyer's masterpiece was his urban plan for the city of Brasilia, a socialist utopia created in collaboration with Costa. The city was designated a UNESCO World Heritage Site in 1987.
The veritable "first couple" of modern American design, Charles and Ray Eames (née Gayber) met while students at the illustrious Cranbrook Academy, the Michigan art school that produced such design greats as Eero Saarinen, Florence Knoll, and Harry Bertoia. They would go on to open the Eames Office, a collaborative, experimental studio where they worked with cutting-edge materials like molded plastic and bent plywood. The Eameses were passionate about mass production and functional design, principles that laid the foundation for much of their iconic furniture. Their work in architecture was equally inspired, with living spaces—like their famous Case Study House No. 8, shown, where they lived and worked—showcasing modern, functional living. Though Ray and Charles nearly always worked as a team, Charles was often mistakenly listed as the sole creator of their designs.
Son of Finnish architect Eliel Saarinen, Eero was born in Finland and emigrated to the U.S. aged 13. When his father accepted a faculty position at the Cranbrook Academy of Art, the younger Saarinen enrolled there, becoming close friends with the Eameses and Florence Knoll. After Cranbrook, he studied Architecture at Yale before touring Europe and beginning work for his father's firm. His first real renown came when a chair he designed with the Eameses won first prize in a design competition in 1940 (the chair was produced by Knoll, the company classmate Florence founded with her husband Hans). That kicked off a long collaboration with Knoll, for which Saarinen designed some of his most iconic furniture, like the Tulip table and chairs, which were dotted throughout the interiors of the TWA Terminal, shown, at Idlewild airport (now JFK), a modern icon and ode to the glamorous travel of the era. The structure is a testament to Saarinen's sculptural sense of modernism, also evident in the St. Louis Gateway Arch, which he designed.
Born Achillina Bo in Rome, Bo Bardi studied architecture in her home city before moving to Milan, where she embarked on several collaborations, including with Italian Giò Ponti on a design magazine. Following World War II, she relocated to South America, where she reopened her practice in Brazil and cofounded, with her husband, the design magazine Habitat. Bo Bardi became a prolific creator in her adopted country, with a slew of public and private buildings including her own glass house, "Casa de Vidro," shown, in the rainforest near São Paulo. The structure adapts modern principles by the likes of van der Rohe and the Eameses and marries them with Brazil's lush climate.
Widely believed to be the first licensed female African American architect in the United States, Beverly Lorraine Green's many contributions to architectural history have often been overlooked. Greene received a bachelor's degree in architectural engineering as well as her master's degree from the University of Illinois at Urbana–Champaign. After graduation, she returned to Chicago to work for the Housing Authority, before relocating to New York City, where she received a master's from Columbia. She worked in the offices of Isadore Robinson and Edward Durell Stone, then went on to work for Marcel Breuer, where her designs were incorporated into buildings on NYU's campus as well as the UN Headquarters in Paris, shown.
Born in Guangzhou, China, and raised in Hong Kong and Shanghai, Ieoh Ming "I.M." Pei traveled to the U.S. at age 17 to enroll in the University of Pennsylvania's architecture school, before transferring to MIT. Though his studies were in classical architecture, Pei was profoundly impacted by a 1935 visit to the school by Le Corbusier, whose principles of modernism informed his eventual practice. In addition to his (once controversial but now generally beloved) pyramid in front of the Louvre, Pei created a dazzlingly wide array of structures throughout his prolific career, including the John F. Kennedy library near Boston (which he called "the most important commission of my life"), the Bank of China in Hong Kong, the East building of Washington, D.D.'s National Gallery, New York's Jacob K. Javits convention center, and Cleveland's Rock & Roll Hall of Fame.
Advertisement – Continue Reading Below
https://www.housebeautiful.com/design-inspiration/g41767717/mid-century-modern-architects/