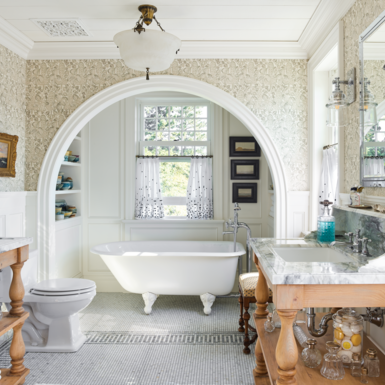 Annie Schlechter
While the kitchen finally got its shining moment back in the early days of the pandemic, that same renewed interest in more thoughtful, efficient design has more recently translated to the bathroom as we were forced to seek more at-home spaces and remedies for quelling the anxieties of the day (hot bath, anyone?). 2023 is looking to be bright for further delving into the design of our wash spaces and transforming them into our own individual ideas of paradise.
"The bath has become the most sought-after space in the home for relaxation or privacy, and that's especially true since COVID, when we all had more time to focus on our well-being," says Barbara Sallick, co-founder of Waterworks and author of The Ultimate Bath (Rizzoli, 2022). "The bath is no longer left for last-minute design choices. In fact, whether they're building a new house or embarking on a renovation, clients now devote considerable planning and a generous part of their budget to bath design."
Whether you're in the midst of a new build project or renovating your beloved home's bathroom, the following bathroom trends for 2023 are applicable to a range of design styles and can work with a variety of sizes, whether you're zhuzhing up a powder room or going all-out to create the primary bathroom of your dreams. These brilliant insights from top designers across the country are sure to inspire your next wash space project, big or small. These are going to be the five biggest bathroom trends for 2023, according to designers.
Advertisement – Continue Reading Below
1
A more thoughtful overall design.
Sallick says that while a classic white bath will never truly go out of style, she has noticed a continued uptick in interest in bringing more color, texture, and pattern into wash spaces. She notes that clients are requesting more modern fittings in sophisticated shapes and are seeking out simple, elegant lines and darker finishes. Tulsa-based designer Jill Croka believes that plaster walls and showers will also be on trend in the new year, as well as sculptural plumbing fixtures that have the ideal balance of form and function.
"Bathroom trends in 2023 will focus on beautiful stone, texture, special hardware, and sleek lighting," says Charlotte-based designer Gray Walker.
New York-based designer Sarah Weichel says that she's anticipating a rise in bolder stone choices like Calcatta Viola, Ceppo Rossa, Verdes, and Honey Onyx to create a striking statement. She's also noticing a rise in full glass-paneled walls, particularly in powder baths, as she believes that an '80s revival is coming in interior design, and we will see that trend coming for our bathrooms.
Additionally, Sallick has noticed a rise in prioritizing functionality and efficiency in bathroom design from increased installation of heated floors, dedicating more room to storage spaces, and creating a more well-thought-out lighting plan that will set the perfect mood for getting some much needed R&R.
2
Seeing the bathroom as the ultimate, spa-like retreat.
Many of us have realized the untapped potential of our bathrooms as wellness spaces in the last few years and several designers mentioned that a top trend for 2023 will be transforming one's bathroom into the ultimate retreat. San Francisco-based designer Jeffry Weisman says that clients are looking to create lounge spaces where freestanding tubs are surrounded by tables for housing candles and glasses of wine alongside comfortable seating, establishing the bathroom as more than just a place to primp and wash up.
"The biggest bathroom design trend we are seeing for 2023 is that our clients want their bathrooms to feel increasingly 'spa-like,'" says Houston-based designer Meg Lonergan. "They're asking for dual shower heads, steam showers, side sprays, and more wellness features."
Jason Bell, director of design for Blackberry Farm, says that he's noticing residential projects leaning into hospitality spaces for inspiration, as "everyone loves a really indulgent, luxurious hotel bathroom."
"The fluffiest, plushest white towels you can find, over-scaled glass-walled showers, great lighting, gorgeous tiles everywhere—all these elements from the world of hospitality combine to create a sumptuous private space for the homeowner to escape at the end of a long day," Bell says. Count us in.
3
Bringing in a mix of old and new to create a more inviting space.
Just as we've seen a resurgence of antiques and vintage pieces filling our living spaces and private quarters, several designers noted that bathrooms are finally getting that mix of old and new to create an extra-special space that fits right in with the rest of a well-collected home.
"We are seeing some interesting trends in bathroom design lately, especially when it comes to incorporating antique furniture in lieu of millwork, and we are also installing art above bathroom vanities, leaving mirrors to be placed in more creative ways," says New York-based designer David Frazier.
Frazier and L.A.-based designer Elisa Baran say that wood is becoming a more popular material in the bathroom, from flooring to open shelving and cabinetry. Baran notes she's also seeing increased interest in antique vanities, stone trough sinks, and hardware that "feels and looks like beautifully aged jewelry" to create a one-of-a-kind space. Longeran notes that clients are now looking to use three or four different materials, as opposed to one or two in previous years, to create a layered space that looks as it has evolved over time.
However, this surge of interest in mixing old and new in the bathroom isn't just about creating a delicious design moment. It's also about creating a warmer, more inviting space that is comfortable enough to spend an hour or two in at a time.
4
Amping up the cozy factor.
"My clients are trying to cozy up their bathrooms," says Chicago-based designer Alexandra Kaehler. "They don't want as much of the stark white marble that we saw for a long time. We are adding warmth and texture through window treatments, antique furniture, rugs, and art."
Rehoboth Beach-based designer Jess Weeth anticipates clients seeking to bring more English charm into their bathrooms from cafe curtains and vanity skirts to elegant scalloped details to further up the cozy factor and ensure their wash rooms are as inviting as any other space in their homes. Plus, going English means clients are more willing to bring patterned wall coverings, bold color combos, and fabric into their wash spaces.
5
Separation in primary bathrooms.
Whether it's a new build or renovation, designers are reporting that clients are interested in dedicating more square footage to their principal bathrooms to have their own separate spaces. Homeowners are thinking much bigger than the double sink vanity and want to go all out on creating the ultimate retreat for two people in one space.
"Our clients are increasingly asking for fully separate principal baths," says Weisman. "When they share a bath, most want sinks on opposite sides of the space and one insists on his-and-hers water closets."
Croka says that a popular principal bathroom design plan has been separating the partners' vanities, toilets, and closets, and meeting in the middle with a generous shower. This allows partners to be able to decide when they want to share the space together versus getting some alone time in their own corners of their personal retreat.
Advertisement – Continue Reading Below
https://www.veranda.com/home-decorators/design-trends/g41803447/bathroom-trends-2023/