Got a project to propose for The Insider? Contact Cara at caramia447 [at] gmail [dot] com
In 2018, when interior designer Jenna Chused of Dumbo-based Chused & Co. decided her family of four should quit their cramped two-bedroom apartment and look in earnest for a permanent home, an elegant grand dame townhouse with soaring ceilings and a full complement of marble mantels was the first one they saw. "I'd never seen this height of ceiling on both the parlor floor and the one above," Chused recalled. "I was like, 'It's mine! I want this! Let's do it!'"
There ensued a bidding war with 11 other interested parties. But ultimately Chused and her husband, a composer, prevailed, and she was able to realize her dream of a home with "a grand European feel" in keeping with the antiques, especially the decorative arts of the 1940s, that speak to her most.
Chused, who grew up in a modern house in North Carolina, was introduced to the world of antiques by a grandmother who took her along on jaunts to shops and flea markets. Originally a fashion designer and stylist for Donna Karan and others, Chused made the switch to interior design in 2014. "I hated that everything was so seasonal and temporary," she said of her time in the fashion business. She wanted to work in a field where her efforts "would last a long time and you don't have to worry about what's around the corner."
Explore The Insider
Find your Brooklyn design inspiration

Working full time and with two young children, Chused "didn't have it in me to do a complete gut reno from scratch," she said. "This project was digestible." The house had been renovated in 2005, with central air and modern mechanicals. Chused did, however, mastermind all-new bathrooms (in the same locations as the existing ones) and a brand new kitchen at the rear of the parlor floor with a new window and two new doors. She did away with some upstairs closets and reconceived the imposing arched opening into the living room to gain more living space, moved doorways and redid all the floors with new planks laid in a herringbone pattern.
What had been a separate garden-floor apartment was incorporated into the rest to make the building a single-family. The downstairs front room is now a sienna-colored music room (top photo) with vintage slipper chairs (reupholstered and with added fringe), a polished brass Cubist-style Italian chandelier from the 1960s by Gaetano Sciolari and a grand piano played by everyone in the family.
Almost all the furnishings in the house are vintage, including the lighting, with a show-stopping ceiling fixture in almost every room. "Each fixture is special," the designer said. "I love vintage lighting and have an extensive collection."
Chused salvaged a wide archway that had once been in another house and replaced the doorway's existing pair of double doors with pocket doors to gain precious inches for furniture placement in the front parlor.
Armless sofas from Ochre are among the only new furnishings in the house. A Brazilian mid-century coffee table, a pair of low-slung armchairs by Czech designer Jindrich Halabala and a Moroccan rug round out the room's decor.
Most of the art and lighting in the home are pieces Chused purchased and squirreled away over the years. She found the Italian metal '60s chandelier at auction; it once hung in a hotel in Rome.
The ostrich painting over the mantel was found rolled up at a Paris flea market in 2000.
The dining area in the middle of the parlor floor is distinguished by an antique Belgian tapestry on the wall, chairs by Angelo Mangiarotti, and an oval table and bouclé-covered banquette Chused had custom made.
"The kitchen was the biggest part of the job," Chused said. "The whole thing is new."
She added a central window and changed two existing windows into doors. Glossy burgundy cabinetry was achieved with a hand-done Old World lacquer technique. The white range with gold-toned knobs is from Lacanche.
The clean-lined fireplace wall replaces the original ornate mantel, relocated upstairs to the primary bedroom.
The primary bedroom "sold me," Chused said, "It feels so grand and Old World."
The elaborately carved mantel came from what is now the kitchen. A gleaming Swedish cabinet, French '40s ceiling fixture from Paris and vintage Moroccan rug echo themes found elsewhere in the house.
A custom vanity with Waterworks fittings, Arteriors sconces and a marble tile floor make for a sumptuous primary bath.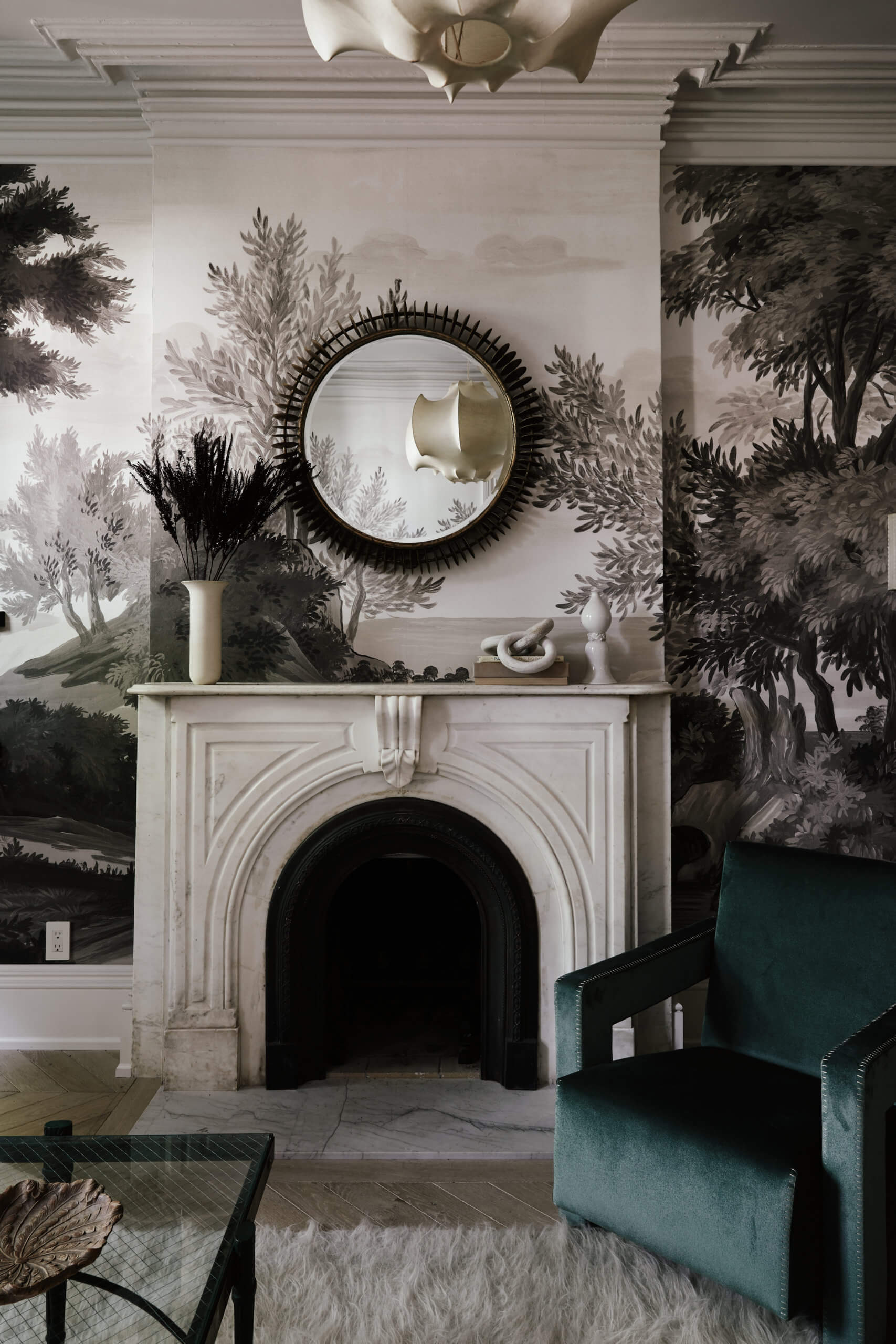 Chused removed two closets to allow for a spacious sitting room adjacent to the primary bedroom. A panoramic wallpaper mural from Ananbo envelops the atmospheric space. "Once I put that up, I was so glad I did it," Chused said. "It's my favorite room."
Chused had the rolled-arm sofa custom made. The velvet armchair is a design by Guglielmo Ulrich for Cassina, the sculptural fiberglass chandelier a 20th century icon by Achille Castiglioni.
A flea-market painting of a seated nude graces the stair hall to the third floor, where there are bedrooms and a bath for Chused's two children, now 12 and 17.
A custom-built orange vanity, designed by Chused, enlivens the children's bath.
Even the TV room at the rear of the garden level received an extra-special wallpaper treatment — a 1930s pattern of lush vegetation from the French wallpaper company Isidore Leroy.
[Photos by Jeff Holt]
Related Stories
The Insider is Brownstoner's weekly in-depth look at a notable renovation and/or interior design project by design journalist Cara Greenberg. Find it here every Thursday morning. 
Email [email protected] with further comments, questions or tips. Follow Brownstoner on Twitter and Instagram, and like us on Facebook.

https://www.brownstoner.com/interiors-renovation/fort-greene-townhouse-interior-design-ideas-chused-co-antiques-lighting/