Got a project to propose for The Insider? Contact Cara at caramia447 [at] gmail [dot] com
Not long after Peter Dolkas, an interior designer originally from the Bay Area, came to New York with "not much of anything except dishes," he put down local roots in a five-story 1890s apartment building near the Brooklyn Heights Promenade, converted to condos in the late 20th century. Though he has since moved on to another Brooklyn neighborhood, he thinks of this earlier venue as "a bit of a laboratory."
Dolkas partners with Michelle Ficker in the Dumbo-based Studio Dorion, a boutique design firm currently working on a Park Slope brownstone, a NoHo loft and projects outside the city. Their tiny, innovative  bedroom at the Brooklyn Heights Designer Showhouse last September deployed humble materials like pegboard and chino cotton fabric in elegant fashion.
Dolkas and Ficker met while working for renowned interior designer Billy Cotton. Not wanting to go the typical route of naming their business eponymously, they lit upon the old-fashioned name Dorion. "It's a name that's dying out, and and we liked the idea of a fictional character running the show," Dolkas said.
Explore The Insider
Find your Brooklyn design inspiration

He was drawn to the Old World character of the one-bedroom apartment, which included a bay window with stained glass transoms overlooking the street. Its biggest challenge: a dated 1980s kitchen opposite the fireplace wall, separated from the living room by a dense wall of cabinetry.
That wall came down and the fridge was relocated to an inside wall and incorporated into a bank of new custom cabinets as part of an all-new kitchen. The previous fireplace was "nothing special, " Dolkas said, so he had no qualms about replacing it with a minimalist mantel of painted sheetrock. "It's nice to have one streamlined contemporary element" in a room full of antique furnishings, he said.
Dolkas earned a master's degree in fine and decorative arts at Sotheby's in London and tends to buy a lot at auction, including Doyle on the Upper East Side and Showplace on West 25th Street. Most pieces in the apartment are antique or vintage, accumulated gradually over time. Like most designers, Dolkas said, he views his home as a "revolving door of furniture."
Dolkas papered the entry in period-appropriate Willow Bough wallpaper, a William Morris design.
The jute rug in the living room, from Rugs USA. makes a simple, neutral underlayment for the eclectic antiques Dolkas picked up here and there.
The oversize paper globe lantern provides a focal point in the dining area.
Dolkas propped a live edge coffee table top (that's not a surfboard) in the corner. The Georgian book cabinet came from Doyle.
Dolkas found the sofa at Showplace Antiques in Manhattan and had it covered in a cotton velvet. The mirror is an auction find too; he painted the frame matte black.
He chose Farrow & Ball's Slipper Satin for the walls, with Lime White trim.
A vertical column of vintage Dunster agateware plates hangs alongside the mirror.
The unlacquered hurricane candle sconce was designed by Dolkas and is available to order directly from his website.
The table was left over from a job at Billy Cotton, the marbled table lamp a Housing Works find.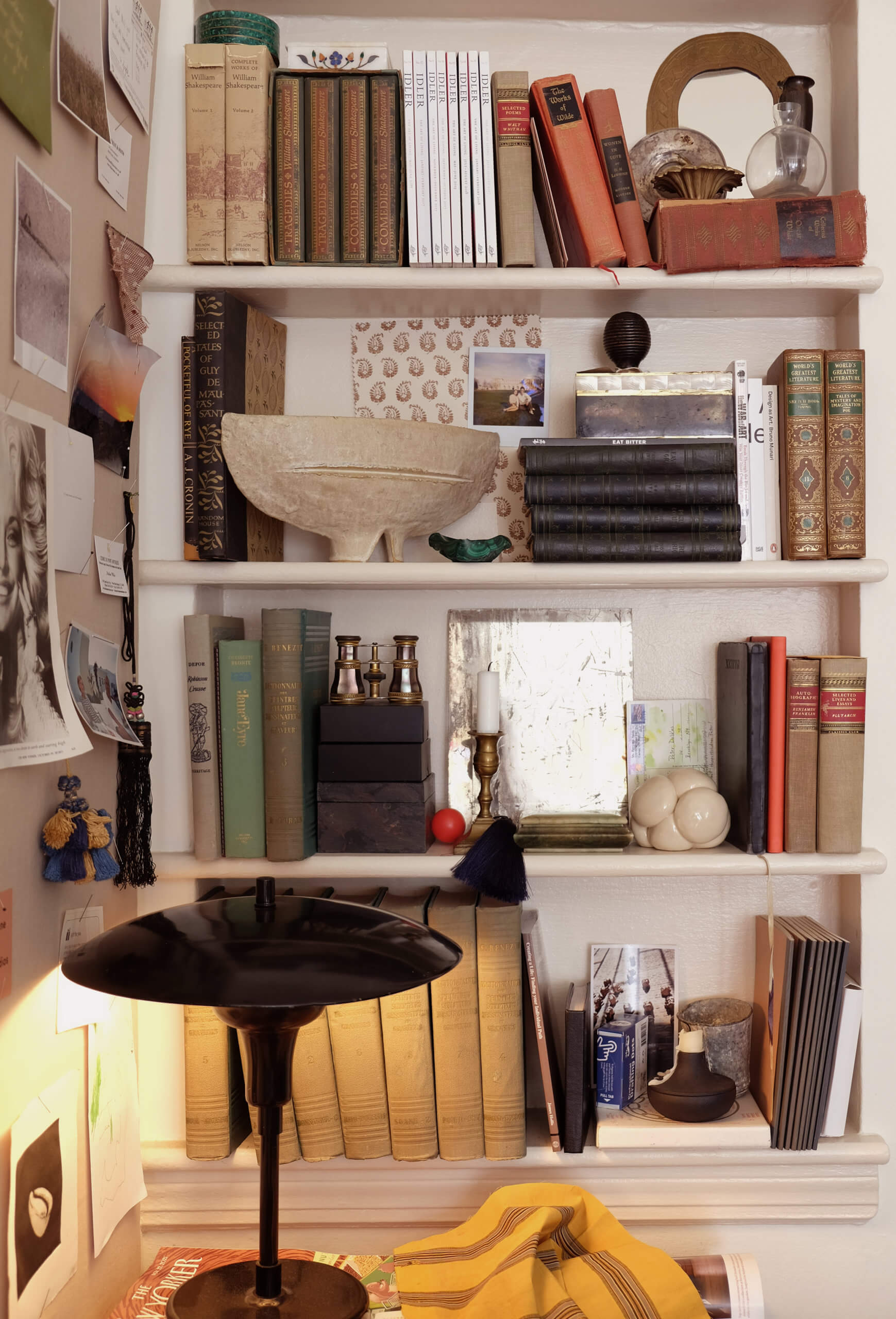 A corner niche with a built-in bookshelf sits opposite the dining table. Dolkas found the table lamp at a Los Angeles vintage shop.
Farrow & Ball's Treron, a deep green, envelops the bedroom in moody atmosphere.
The pencil post bed was made by from Great Windsor Chairs in Lancaster County, PA; Dolkas found it on eBay.
Other bedroom pieces were acquired piecemeal, including a heavyweight Belgian linen bed cover from John Derian, the $5 overhead lantern from Jamali Garden in Manhattan's flower district, the antique chest from auction and area rugs from Paula Rubinstein.
Dolkas painted the new custom cabinetry Farrow & Ball's Lime White and supplied metal drawer pulls from Rejuvenation. The countertop is sealed wood, the island topped with a slab of Carrara marble left over from a project.
The backsplash tiles are undecorated blanks from Regts Delft Tiles, a Dutch firm.
New cabinetry conceals the refrigerator and freezer. Throughout the apartment, Dolkas replaced the light switches with new ones from House of Antique Hardware.
In the bathroom, Dolkas retiled the walls with inexpensive subway tiles from Nemo, and added a striped duster skirt, held on with magnets, to the original sink. The framed medicine cabinet was sourced from Restoration Hardware.
[Photos by Peter Dolkas]
Related Stories
The Insider is Brownstoner's weekly in-depth look at a notable renovation and/or interior design project by design journalist Cara Greenberg. Find it here every Thursday morning. 
Email [email protected] with further comments, questions or tips. Follow Brownstoner on Twitter and Instagram, and like us on Facebook.

https://www.brownstoner.com/interiors-renovation/brooklyn-heights-apartment-renovation-peter-dolkas-interior-design-prewar/