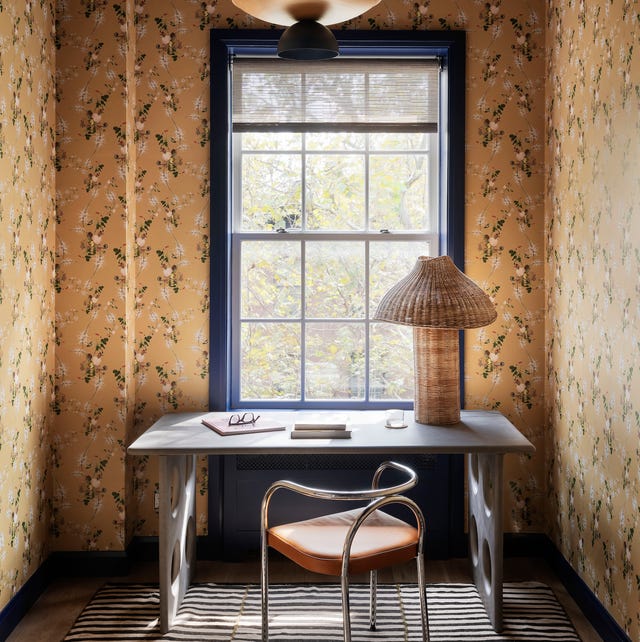 Studio DB
A few years ago, home offices were considered symbols of luxury—something many homes went without. Now, living in a (near) post-pandemic world, with more and more people working from home either part- or full-time, dedicated home office spaces are becoming the norm. While it's absolutely possible to work from the couch or kitchen counter, there's something to be said about intentional home offices, whether in the form of an entire room or a stylized desk in a spare corner. With that in mind, we chatted with five interior designers for their top home office trends for 2023. From home office ideas that will boost your productivity to more relaxed workspaces, ahead you'll find over a dozen different ways to make your space work for you. For the minimalist design lover, a monochromatic home office might be best. For the maximalist, a home office drenched in color is more likely to inspire a cheerful, steady workflow. The point is, no matter your design aesthetic, you're bound to find inspiration in the designer-approved trends, below.
Advertisement – Continue Reading Below
Wallpaper may have had a hiatus since its popularity surge in the '70s and '80s, but in 2023, it's expected to soar once more. "Wallpaper can add just the right interest and punch to an otherwise simple office space," says Maggie Griffin, founder of Maggie Griffin Design. "Adding in a pattern on the walls, a comfy chair, and a few well-styled accessories can make all the difference."
Whether you live in a small apartment or simply want to make the most of your space, decorating upwards can greatly expand the potential of your home office. "Using the vertical space above a desk creates a great visual balance of decor and function," says Jenn Feldman Designs founder Jenn Feldman. "In this den, the desk doubles as a side table as furniture in the room when not used as a working space."
Once upon a time, stark white offices and those with muted color palettes reigned supreme. Nowadays, though, House Sprucing owner and principal designer, Heather Fujikawa, says that vivid hues are on the rise in the home office space. "Bringing back color is something we are seeing strong for 2023," she says. "Color drenching walls in darker colors is all the rage and we love this Hale Navy paint color by Benjamin Moore that brings the perfect hue of navy blue."
4
Monochromatic Masterpiece
If you love a specific color, don't be afraid to outfit your entire office in it. "I'm excited to see some monochromatic offices," says Susana Simonpietri, creative director of Chango & Co. "We have a few colorful rooms in the works that explore one color to its fullest potential."
5
Small but Personalized Spaces
In 2023, designers are expecting individual home offices to be on the rise. "One of the biggest trends we have been seeing is people now wanting their own office spaces," says Britt Zunino, principal of Studio DB. "Before, people were sharing home offices and now that working from home has become more permanent, they want their own office instead of sharing the space."
6
A Kitchen-Adjacent Space
You don't need a ton of space to create your very own home office. "Continuing with the wallpaper trend, carving out a sweet spot off the kitchen allows for easy proximity to send an email while waiting on your dinner to finish," Griffin says.
Like Griffin's kitchen-adjacent suggestion, Feldman says that repurposing large closets can work for home offices, too. "This office space was repurposed from an oversized utility closet that was unused," she shares. "A simple swap to a barn door and a great accent fabric created the perfect office space tucked away like a little jewel box."
8
An Unconventional Setup
You might think that a home office is defined by the desk that sits within it, but according to Simonpietri that's not the case. "We've also started seeing a lot of requests for offices that do away with the power desk," she says. "Most executives these days tend to prefer a smaller desk and more space to move around on calls. I'm personally embracing this and designing offices with more lounge space and clear floor space, abandoning the idea of the massive 'old school boss' desk."
If you do love the idea of a power desk, though, Feldman says that placing it center stage will make quite the statement. "Space planning is the key to a great home office," she says. "Centering a desk in the middle of the room creates a great visual flow—you just need to map out an electrical plan to keep unsightly wires out of the way. This custom desk was designed with a channel in the leg to run cords up clean from the floor outlet for a great look and all the function. A small hole in the rug allows the main cord to be plugged in and unseen."
As much as you may want to stick to a chic and sleek aesthetic, there's something to be said about infusing your home office with your own personality. "Having home offices that speak to the people who live in the space is so important and never goes out of trend," Fujikawa says. "We love this office space that tells a story of the person who works in it. The touch of guitar, lounge space corner, minimal cowboy art, and modern touches really capture the vibe."
Sometimes opting for a dark color palette can make a home office more cozy and inviting. "There's a reason why movie theaters are dark: You're able to see the screen and light much better," Feldman says. "A desk in a cozy dark library creates a great screen scene for work and beauty."
12
Light, Bright, and Airy
While dark color palettes are soothing for some, others prefer bright spaces to encourage alertness. "For 2023 we are seeing a clean approach to home offices," says Fujikawa. "People are wanting to let the light in to have the home office be a place of bright ideas, calmness, and refuge to be able to be in their best mindset to do the tasks at hand. Keeping design minimal, clean and bright can bring a mood that not only lightens but can bring a positivity that can help shine through their work."
While wallpaper adds immediate intrigue to a home office space, Zunino says that it also creates quite the background should you hop on a video call. "A major trend we are seeing in home offices is the importance of Zoom backgrounds with everyone constantly being on video calls," she explains. That's not to say wallpaper is the only way to achieve a camera-friendly office. Rather, it's about maintaining a clean, well-styled space.
For a classic home office vibe, embrace more masculine color palettes, silhouettes, and textiles. "A handsome home office is a mutually shared space these days, for 'working from home' to afternoon chats," Griffin says. "A pair of comfy chairs and styled shelves make the space feel less like work, and more like play."
Home offices don't have to be all work and no play. "Bringing an intersection of great design and functionality is always something to note for where the home office is going," Fujikawa says. "It's all about having intentional design and purpose to each item in the office that really helps make it a space to thrive in for both home and work life in this space." In this office that she designed, Fujikawa made a point to prioritize built-in cabinets that offered plenty of storage space, as well as shelves to accessorize and showcase personality.
Advertisement – Continue Reading Below

https://www.veranda.com/home-decorators/g41824207/home-office-trends-2023/